Pekka Buttler, 08/2022 (Updated 8/2023)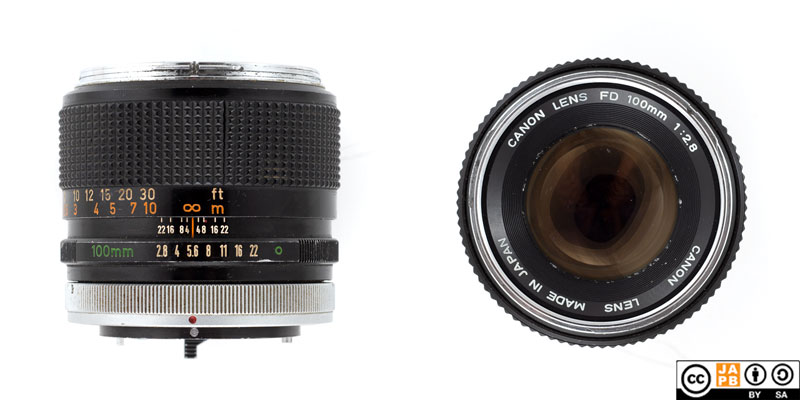 Specifications
The table below summarizes the lens' key specifications:
| | | | |
| --- | --- | --- | --- |
| Brand: | Canon | Lens name | FD 100mm 1:2.8 |
| Focal length(s)1 | 100 mm | Angle-of-view2 | 24° |
| Maximum Aperture | f/2.8 | In Production | 1971–1973 |
| Lens mount | Canon FD | Subfamily (if applicable) | FD (chrome nose) |
| Length3 | 59,7 mm | Diameter4 | 66,6 mm |
| Filter ring diameter | 55 mm | Weight | 403 grams |
| Lens element count | 5 | Lens group count | 5 |
| Aperture blades (S/R/C)5 | 8 S | Focus throw | 210 ° |
| Minimum focusing distance | 100 cms | Maximum magnification | 1:7,7 |
| Has manual aperture ring | YES | Has Manual focus ring | YES |
Further notes:
• While, according to Canon's specifications, the chrome nose 100 mm should weigh 430 grams, my sample weighs only 403 grams, indicating that there may be several sub-variants of the chrome nose 100 mm.
• This lens was in 1973 replaced by its successor (known as the FD100mm f/2.8 S.S.C.), which weighed only 370 grams.
• Alike most Canon FD lenses, the lens front sports both a filter ring (55 mm) as well as grooves for mounting a bayonet-type lens hood.
• The BT-55 is the dedicated lens hood for this lens. Shorter variants (BS-55, BW-55A/B) can equally be used but offer less protection against oblique rays.
The history of Canon FD chrome nose lenses
Canon is undoubtedly one of the great names in 35 mm SLR photography. Ever since the 1959 introduction of the Canonflex – Canon's first interchangeable lens SLR – Canon has constantly focused on being at the forefront of Camera innovation. Often this has necessitated taking stock and redesigning both cameras, lenses and lens mounts. Unlike its archival Nikon, Canon has not tried to integrate all novel features in the same lens mount, but has instead repeatedly launched new, modified mounts to facilitate new features, while still often (but not always) managing to maintain a decent degree of backwards compatibility.
In short (a longer version is here), the development of Canon SLR mounts can be traced as follows:
• 1959–1963: R-mount 6. Canon's first SLR lens mount. Breech lock-type mount with aperture automation (camera is able to stop down lens for taking the shot.
• 1964–1969: FL-mount. Breech-lock type mount, physically similar mount as Canon R-mount, but camera-to-lens communication linkages somewhat different. Cannot communicate selected aperture to body (stop-down-metering only).
• 1970–1978: FD-mount. Breech-lock mount. FD lenses compatible with FL-cameras and vice versa. Manual focus lenses that communicate aperture information to camera, hence opening the door for automatic exposure (both shutter priority and aperture priority possible)
• 1979–1986: new FD-mount (a.k.a. FDn). Bayonet mount, backwards compatible with FL and FD mounts. Otherwise, as FD mount.
• 1987–today: EF-mount. Electronically controlled autofocus lenses that use an internal focusing motor. Compatible with previous mount lenses only using an adapter with optics.
'Chrome nose' lenses are a characteristic of the early days of the Canon FD mount, as the first lenses to be introduced used chrome-plated filter ring/hood mount. Many chrome nose lenses are mechanically and optically identical to later Canon FD lenses, but:
• there are cases where Canon redesigned the lens significantly when going from chrome nose to normal FD,
• a chrome nose Canon FD lens is an easy-to-see guarantee for a very early (early 1970s) Canon FD lens, hence virtually guaranteeing that the optical coatings are not the most modern, and
• chrome nose lenses are visually easy to distinguish, and some like their looks.
Interestingly, when Canon introduced the FD mount and its lineup of lenses, not all lenses introduced early on sported a chrome nose. Also there are some cases where Canon marketing material showed a specific lens with a chrome nose, only to never have been seen since. I have personally seen the following lenses as chrome nose models: 24/2.8; 28/3.5; 35/2; 35/3.5; 50/1.4; 50/1.8; 55/1.2; 55/1.2 AL; 100/2.8, and 135/3.5.
Adapting
n.B! As chrome nose lenses are 100% Canon FD lenses, the following applies to all Canon FD lenses:
This lens cannot be used natively on any current SLR or dSLRs. To use it in its native environment, you will need a Canon FD-mount film body. I've personally shot my chrome nose 50/1.4 on a Canon F-1 to great effect.
Thanks to being a fully manual lens (manual aperture, manual focus), the lens can be adapted to all mirrorless cameras using a suitable adapter. However, for the adapter to allow the lens to stop down, you will need an adapter that can be set to engage the FD lens' aperture control lever. Personally, this is my biggest gripe with the FD-mounts as this leads to what I refer to as the four-ring problem: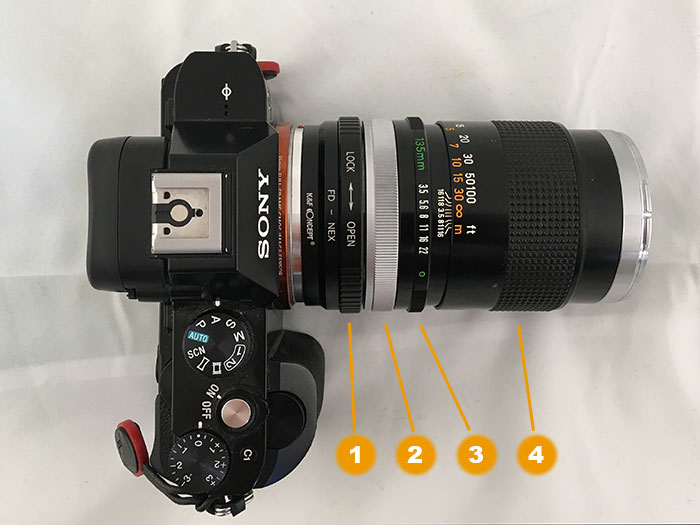 Moreover, a large range of special adapters (helicoid adapters, tilt/shift adapters, speed boosters) for using Canon FD lenses on most mirrorless systems are available.
Using Canon FD lenses on dSLRs is a possibility, but is not problem free. Thanks to the relatively short flange focal distance of the Canon FD mount (at 42,0 mm, clearly shorter than that of any full-frame dSLR mount), any adapter will necessitate some optics to achieve infinity focus.
Footnotes
1 Focal length is (unless stated otherwise) given in absolute terms, and not in Full-frame equivalent. For an understanding of whether the lens is wide/tele, see 'Angle-of-view'.
2 Picture angle is given in degrees (based on manufacturers' specs) and concerns the diagonal picture angle. Rule of thumb:
> 90 ° ==> Ultra-wide-angle
70–90 ° ==> Wide-angle
50–70 ° ==> Moderate wide-angle
40–50 ° ==> 'Standard' or 'normal' lens
20–40 ° ==> Short tele lens
10-20 ° ==> Tele lens
5-10 ° ==> Long tele lens
< 5 ° ==> Ultra-tele lens
3 Length is given from the mount flange to the front of lens at infinity.
4 Diameter excludes protrusions such as rabbit ears or stop-down levers.
5 S=straight; R=rounded; C=(almost)circular at all apertures.
6 The Canon-R mount should possibly be renamed to (or referred to) as the Canonflex mount to avoid confusion with the modern mirrorless mount that is sometimes also referred to as the Canon R mount.