Pekka Buttler, 06/2023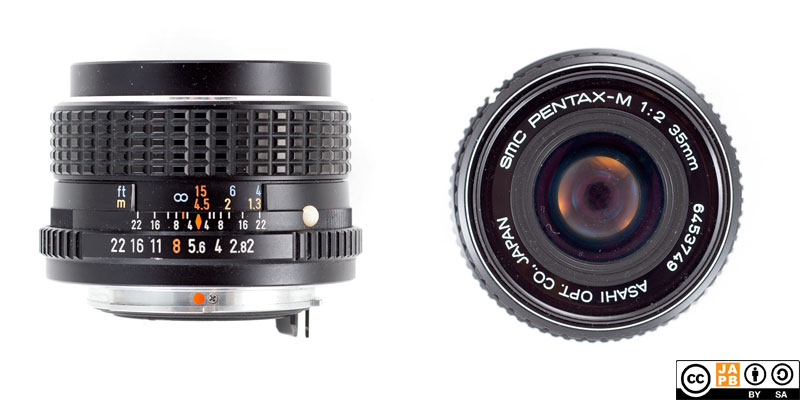 Specifications
The table below summarizes the lens' key specifications (measurements are based on the pictured sample):
| | | | |
| --- | --- | --- | --- |
| Brand: | Asahi Opt.Co. (Pentax) | Lens name | smc PENTAX-M 1:2 35mm |
| Focal length(s)1 | 35 mm | Angle-of-view2 | 63 ° |
| Maximum Aperture | f/2 | In Production | 1977–1984 |
| Lens mounts | Pentax K | Subfamily (if applicable) | –– |
| Length3 | 42,8 mm | Diameter4 | 63,2 mm |
| Filter ring diameter | 49 mm | Weight | 207 grams |
| Lens element count | 7 | Lens group count | 7 |
| Aperture blades (S/R/C)5 | 6 S | Focus throw | 180 ° |
| Minimum focusing distance | 30 cms | Maximum magnification | 1:6,4 |
| Has manual aperture ring | YES | Has Manual focus ring | YES |
Further notes:
• This lens is part of a long and highly distinguished lineup (see below).
History of Asahi / Pentax
The camera business today known Pentax was founded in 1919 as Asahi Kogaku Kogyo (Asahi Optical Company). Initially the company manufactured lenses for eyeglasses, later diversifying into projection lenses and even later into photographic lenses, supplying lenses for camera makers such as Konishiroku (Konica) and Molta (Minolta) and binoculars.
In 1952 – the year of the Helsinki olympiad – Asahi released the Asahiflex, the first Japanese 35 mm SLR. Together with its SLR cameras, Asahi introduced a line of lenses that carried the name 'Takumar', in honour of the founder's brother.
In 1975 Asahi/Pentax introduced its own bayonet mount – The Pentax K mount – and phased out the production of m42 lenses and cameras. The name Takumar would remain on Pentax lenses until 1979 (and made some sporadic reappearances). The Pentax K mount is still a current mount, but it has several versions/generations. For details, see the JAPB article on the Pentax K mount.
Pentax was among the handful of Japanese camera manufacturers to keep up with the introduction of autofocus SLR cameras, and even survived the shift from film SLRs to digital SLRs (albeit somewhat struggling).
Asahi/Pentax and the fast 35 mm lens
The SLR, while revolutionary in many ways, initially came with a significant drawback, in that the 'depth' of the mirror box necessitated that lenses were designed with a significant back focal distance6. That back focal distance precluded the use of the kind of wide-angle lenses that were typical on rangefinder cameras, and limited SLR lenses to ranging from standard focal lengths to various degrees of tele. At least until the virtually simultaneous perfection of the retrofocus design by Carl Zeiss Jena and Angenieux in 1949-1950.
While the initial development of the retrofocus lens design happened in the west (U.S., France, Germany), the Japanese optical industry was as adroit as usual in first adopting and later perfecting the technology. In the case of Asahi/Pentax, the major contribution to the art of retrofocus lenses came in the form of the 35 mm f/2.3 Auto-Takumar (1958–1963) – a lens that even today would count as a fast 35 mm lens. In the following decades, Asahi/Pentax always made sure to have a fast 35 mm lens in their lineup.
Versions
The list below summarises the major steps in the genealogy of fast Asahi/Pentax 35 mm lenses.
m42 mount lenses:
• 1958–1963, 'Auto-Takumar 1:2.3/35' 6 elements in 5 groups, semi-automatic aperture, 10 blades
• 1963–1967, 'Super Takumar 1:2/35' 8 elements in 7 groups, auto aperture, 5 blades, 67 mm filter
• 1967–1971, 'Super Takumar 1:2/35' 8 elements in 7 groups, auto aperture, 6 blades, 49 mm filter
• 1971–1975, 'Super-Multi-Coated TAKUMAR 1:2/35' 8 elements in 7 groups, auto aperture, 6 blades, 49 mm filter
Pentax K mount lenses:
• 1975–1977 'SMC PENTAX 1:2/35', 8 elements in 7 groups, auto aperture, 6 blades, 52 mm filter (K-type Pentax K mount)
• 1977–1984 'smc PENTAX-M 1:2 35mm', 7 elements in 7 groups, auto aperture, 6 blades, 49 mm filter (K-type Pentax K mount) [this lens]
• 1984–1989 'smc PENTAX-A 1:2 35mm', 7 elements in 7 groups, auto aperture, 6 blades, 49 mm filter (KA-type Pentax K mount)
• 1999–2019 'smc PENTAX-FA 1:2 35mm AL', 6 elements in 5 groups, auto aperture, 6 blades, 49 mm filter (KAF-type Pentax K mount)
• 2019– 'HD Pentax-FA 35mm F2', 6 elements in 5 groups, auto aperture, 6 blades, 49 mm filter (KAF-type Pentax K mount)
Adapting
If you want to natively mount this lens you need to find a functioning Pentax K mount SLR (or a dSLR) camera. Luckily that should be relatively easy as Pentax K film bodies were produced in their millions and most of them – especially those manufactured by Pentax – have a good reliability record. Alternatively, you can use this lens natively on any Pentax dSLR.
Adapting this lens to a mirrorless, full-frame digital camera is a breeze thanks to the lens having full manual controls (aperture ring, focus ring). You simply need a dumb adapter from Pentax K to your mirrorless system.
Due to the medium flange focal distance used by the m42 mount (45,46 mm), whether you can adapt this lens to other than Pentax' dSLR mounts depends on which dSLR mount: Canon EF, and Four Thirds can mount Pentax K lenses using a simple adapter ring. Minolta/Sony A and Nikon F on the other hand are not as problem-free, and – to retain anything near infinity focus – the adapter will necessitate corrective optics. In all cases, your camera will work only in stop-down metering.
Footnotes
1 Focal length is (unless stated otherwise) given in absolute terms, and not in Full-frame equivalent. For an understanding of whether the lens is wide/tele, see 'Angle-of-view'.
2 Picture angle is given in degrees (based on manufacturers' specs) and concerns the diagonal picture angle. Rule of thumb:
> 90 ° ==> Ultra-wide-angle
70–90 ° ==> Wide-angle
50–70 ° ==> Moderate wide-angle
40–50 ° ==> 'Standard' or 'normal' lens
20–40 ° ==> Short tele lens
10-20 ° ==> Tele lens
5-10 ° ==> Long tele lens
< 5 ° ==> Ultra-tele lens
3 Length is given from the mount flange to the front of lens at infinity.
4 Diameter excludes protrusions such as rabbit ears or stop-down levers.
5 S=straight; R=rounded; C=(almost)circular at all apertures.
6 The 'back focal distance' is defined as the distance from the vertex of the rearmost lens to the focal plane (sensor or film). In practical terms, this is the distance from the rear of the lens to the sensor/film.