Pekka Buttler, 12/2022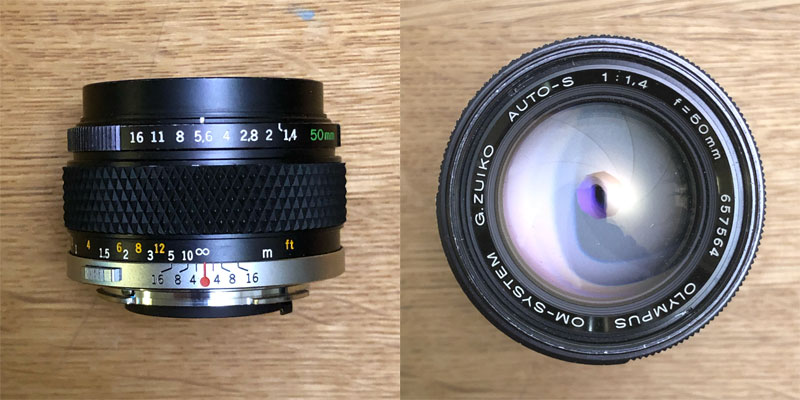 Specifications
The table below summarizes the lens' key specifications (Measurements based on pictured sample):
| | | | |
| --- | --- | --- | --- |
| Brand: | Olympus | Lens name | G.ZUIKO AUTO-S 1:1,4 f=50mm |
| Focal length(s)1 | 50 mm | Angle-of-view2 | 46 ° |
| Maximum Aperture | f/1.4 | In Production | 1972– ? |
| Lens mounts | Olympus OM | Subfamily (if applicable) | –– |
| Length3 | 39,7 mm | Diameter4 | 59,6 mm |
| Filter ring diameter | 49 mm | Weight | 229 grams |
| Lens element count | 7 | Lens group count | 6 |
| Aperture blades (S/R/C)5 | 8 S | Focus throw | 175 ° |
| Minimum focusing distance | 45 cms | Maximum magnification | 1:6,9 |
| Has manual aperture ring | YES | Has Manual focus ring | YES |
Further notes:
• This lens is the Olympus OM-SYSTEM's fast fifty.
• It was introduced in 1972, together with the Olympus M-1 system, before the name change (from M-SYSTEM to OM-SYSTEM). Hence, the earliest samples of this lens carry the phrase M-SYSTEM on the lens' name ring.
• Several versions, divided into two major variants were produces (see 'Versions' below).
History of Olympus OM lenses
Olympus was founded in 1919 and entered the photography business in 1936. Olympus' first major innovation came in the form of the Olympus PEN in 1959. The PEN was an extremely compact half-frame camera, and its success (both technical and commercial) set the stage for Olympus' next grand endeavour.
Olympus entered the SLR segment in 1972 with the OM6 system. Considering that most of its competition (Canon, Konica, Minolta, Nikon, Pentax etc.) had more than a decade's head start in SLR development and sales, the success of the OM system was by no means a foregone conclusion. Olympus and Maitani's team knew, that they were facing a tough market with significant entrenched actors, and took care to both offer something the competition did not (a compact, nicely shaped and full-featured SLR system) while also making clear their intent and commitment to not just make a stab in the dark.
As a result, the product lineup presented at introduction, as well as the product roadmap were impressive both in breadth and in detail. While the Olympus OM System was about more than the lenses, it is fair to say that the lenses were at the heart of the system, and a key part of what made the OM system the success it became.
Olympus was well aware that it does not make sense to have a compact, stylish and ergonomic camera body, only to mount bulky, crudely designed and clunky optics on the camera. Hence, all Olympus OM-system lenses were designed to exacting styling demands, placing special demands on ergonomics, and – using the best information available in the early 70's – making the lenses as compact as possible.
And it would be fair to say that Olympus was rather successful, because Olympus OM lenses typically were the most compact offering within each specification class. This compactness did – however – not come without some compromises (but then, lens design is always the art of compromise). But it would be unfair to characterise Olympus' lens offering merely as 'compact', because beside compact lenses, there are two other specialities in the OM lens lineup: a set of exceptionally bright tele lenses (100/2; 180/2; 250/2; 350/2.8); and an extremely broad lineup of macro lenses (20/3.5; 20/2; 38/3.5; 38/2.8; 50/3.5; 50/2; 80/4; 90/2; 135/4.5) and macro photography gear.
The OM system was at its peak from its launch in 1972 to the mid 80's. Olympus clearly could not come up with a winnings solution to answer the challenge posed by the autofocus revolution. While Olympus was among the first companies to answer Minolta's challenge, the OM-707 (Olympus' 1986 autofocus SLR) was largely criticised, and existing Olympus OM users were most scathing in their response. They rightly (in my opinion) felt that the OM-707 was everything that an Olympus SLR was not supposed to be (big, ugly, and handicapped). After another unlucky attempt (the OM-101), Olympus decided to withdraw from SLR development altogether (although OM-4Ti cameras were manufactured and OM system lenses were sold far into the 2000's), until re-entering the field at the advent of dSLRs.
Versions
There are five versions of this lens. Versions 1–3 mainly reflect Olympus' early overall naming and cosmetic changes, version 4 introduces multi-coating and version 5 is the overall most modern design. It is clear that there has been an optical redesign either between version 3 and 4 or between version 4 and 5 (improved image quality wide open, 4 mm longer build), but online sources are inconclusive regarding exactly at what stage that has happened.
Olympus M-SYSTEM G.Zuiko Auto-S 1:1.4 f=50 mm ("silver nose")
Olympus OM-SYSTEM G.Zuiko Auto-S 1:1.4 f=50 mm ("silver nose")
Olympus OM-SYSTEM G.Zuiko Auto-S 1:1.4 f=50 mm ("black nose") [pictured sample]
Olympus OM-SYSTEM Zuiko MC Auto-S 1:1.4 f=50 mm
Olympus OM-SYSTEM Zuiko Auto-S 50mm 1:1,4
Adapting
This lens cannot be used natively on any current SLR or dSLRs. To use it in its native environment, you will need an Olympus OM film body. Luckily there are a lot of those available, as they remained in production into the 2000s.
Thanks to being a fully manual lens (manual aperture, manual focus), the lens can be adapted to all mirrorless cameras using a suitable adapter. Moreover, a simple 'dumb adapter' will do the job perfectly. While the OM mount has been popular, special adapters are not easily available, but one can choose to daisy-chain adapters (e.g. OM->Canon EF; Canon EF –> mirrorless) which also opens up a wide range of special adapters (speed boosters, helicoid adapters, tilt/shift adapters).
Using Olympus OM lenses on dSLRs can also be an easy option, depending on which dSLR.
• Canon EF has the shortest flange focal distance among full-frame dSLR's and Canon's wide range of dSLRs are able to Mount Olympus OM lenses perfectly using a simple adapter ring.
• Sony/Minolta A, Pentax K and Nikon F dSLRs are able to use Olympus OM lenses using an adapter that uses corrective optics to allow infinity focus.
Footnotes
1 Focal length is (unless stated otherwise) given in absolute terms, and not in Full-frame equivalent. For an understanding of whether the lens is wide/tele, see 'Angle-of-view'.
2 Picture angle is given in degrees (based on manufacturers' specs) and concerns the diagonal picture angle. Rule of thumb:
> 90 ° ==> Ultra-wide-angle
70–90 ° ==> Wide-angle
50–70 ° ==> Moderate wide-angle
40–50 ° ==> 'Standard' or 'normal' lens
20–40 ° ==> Short tele lens
10-20 ° ==> Tele lens
5-10 ° ==> Long tele lens
< 5 ° ==> Ultra-tele lens
3 Length is given from the mount flange to the front of lens at infinity.
4 Diameter excludes protrusions such as rabbit ears or stop-down levers.
5 S=straight; R=rounded; C=(almost)circular at all apertures.
6 The OM system was originally named the M-system (and early samples of both cameras and lenses can be found that refer to the M-system) in honour of its chief designer Yoshihisa Maitani. But Leica felt the naming infringed on its own series of M-named cameras, and after considerable pressure Olympus renamed the system to OM (Olympus Maitani).
7 Some sources mention an even earlier variant ("H-Zuiko MC Auto-W 1:2 f=35 mm"), but I will not list it as a) I have not found any photographic evidence of such a variant, and b) other sources do not list it.