Pekka Buttler, 08/2022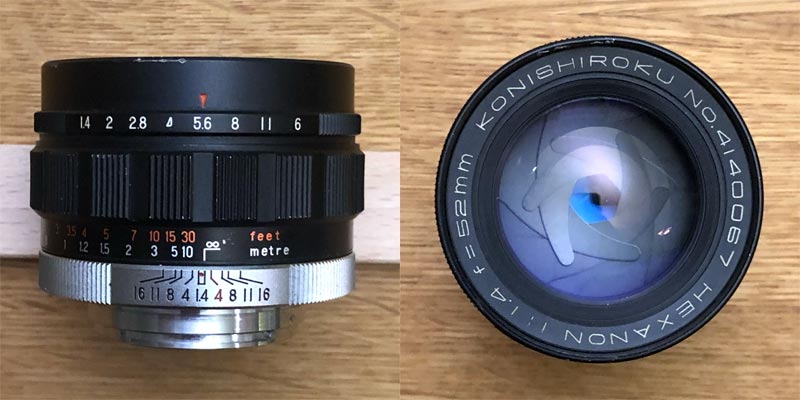 Specifications
The table below summarizes the lens' key specifications (measurements based on pictured, second version of the lens):
| | | | |
| --- | --- | --- | --- |
| Brand: | Konishiroku (Konica) | Lens name | HEXANON 1:1.4 f=52mm |
| Focal length(s)1 | 52 mm | Angle-of-view2 | 45° |
| Maximum Aperture | f/1.4 | In Production | 1960–1965 |
| Lens mount | Konica F | Subfamily (if applicable) | –– |
| Length3 | 40,4 mm | Diameter4 | 60,8 mm |
| Filter ring diameter | 55 mm | Weight | 282 grams |
| Lens element count | 7 | Lens group count | 5 |
| Aperture blades (S/R/C)5 | 6 S | Focus throw | 95 ° |
| Minimum focusing distance | 60 cms | Maximum magnification | 1:9.4 |
| Has manual aperture ring | YES | Has Manual focus ring | YES |
Further notes:
• This lens is – to my knowledge – the only ever 52 mm lens with a max aperture of f/1.4
• Unlike later Konica lenses, these early F-mount lenses have their aperture control ring at the front of the lens.
• Aperture closing is actuated through a small finicky rotating lever contraption on the bottom of the lens' flange.
• The first (rarer) version of the lens (with cross-coupling for the Konica F SLR) has an outwardly quite dissimilar design and (among other things) sports a smaller filter ring diameter (49 mm).
History of Konica SLR lens mounts
Konica is one of those names that will not ring any bells to those who've only recently started photographing, but for many years Konica was one of the 'Great Japanese camera companies'.
After a short-lived and only moderately successful line of SLR cameras known as the Konica F-line (1960-1965), Konica hit pay dirt with the introduction of the Konica Auto-Reflex in 1965 and its new, Konica AR mount. The Auto-Reflex was at the time the first affordable system camera with integrated auto-exposure (albeit the exposure metering was not yet TTL). The Auto-Reflex was followed by a two lines of successful cameras – the more ambitious Autoreflex T-line and the more pedestrian Autoreflex A-line – before Konica (along with the rest of Japanese camera companies) stepped up the automation of their SLR cameras with the 1-series (FS-1, FC-1, FP-1, and FT-1).
But while Konica had often been at the forefront of automation (first shutter priority auto-exposure system, first SLR with integrated winder), Konica's star had been waning, and Konica decided to not compete against the likes of Minolta, Nikon, Canon, and Pentax in autofocus technology. Instead Konica withdrew from SLR and SLR lens manufacture and focused on compacts and other optoelectronics. Two decades later Konica merged with Minolta to form KonicaMinolta, which subsequently sold its camera business to Sony. So, after a fashion, the DNA of Konica's camera business lives on in Sony's camera division.
The Konica F mount was very much a time of accelerated learning for Konica (lessons they put to good use in the subsequent Konica AR -mount) because even within the short time-span of the Konica F-mount Konica did an about-face with regards to how the camera body and lens communicate. This results in that there are two fundamentally different sets of Konica F-mount lenses:
• Those designed to work with the Konica F camera (which was maybe just a tad too much ahead of its time), able to communicate selected aperture from lens to camera.
• Those that were designed to work with the later F-series cameras (FS/FSW/FP/FM)
Versions
There are three different versions of the Konishiroku Hexanon 52 mm f/1.4
Version 1:
• Name: Konishiroku Hexanon
• has coupling arrangement for light meter on Konica F body
Version 2: (pictured above)
• Name: Konishiroku Hexanon
• lacks coupling arrangement for light meter on Konica F body
Version 3:
• Name: Hexar (rebranded for Revue cameras, otherwise identical as version 2)
• lacks coupling arrangement for light meter on Konica F body
Adapting
n.B! The following applies to all Konica F mount lenses.
This lens cannot be used natively on any current SLR or dSLRs. To use it in its native environment, you will need a Konica F-mount film body, which – today – are relatively scarce and expensive, especially in full working order.
Thanks to being a fully manual lens (manual aperture, manual focus), there are few real limitations to adapting to mirrorless cameras, assuming you can find a suitable adapter. And that's the rub. As the range and production numbers of Konica F mount lenses was neither broad nor large, Konica F lenses are not an obvious choice for an adapter manufacturer that aims for volume. In fact, currently all available alternatives are entirely due to enterprising individuals that forgo the volume requirement.
Using Konica AR lenses on dSLRs is almost impossible. Due to the exceptionally short flange focal distance of the Konica F mount (at 40,5 mm, a lot shorter than that of any full-frame dSLR mount), any adapter will necessitate some optics to achieve anything near infinity focus. Considering the relative scarcity of Konica F lenses, it seems no manufacturer (volume or not) has felt producing such an adapter to be an interesting proposition. As a result, the only way to use a Konica F lens on a dSLR is through combining Konica's own (1965) Konica F–>AR adapter (which are today worth their weight in gold), with a Konica AR –> dSLR adapter (with optics).
For further details, see the JAPB article on the Konica F mount.
Footnotes
1 Focal length is (unless stated otherwise) given in absolute terms, and not in Full-frame equivalent. For an understanding of whether the lens is wide/tele, see 'Angle-of-view'.
2 Picture angle is given in degrees (based on manufacturers' specs) and concerns the diagonal picture angle. Rule of thumb:
> 90 ° ==> Ultra-wide-angle
70–90 ° ==> Wide-angle
50–70 ° ==> Moderate wide-angle
40–50 ° ==> 'Standard' or 'normal' lens
20–40 ° ==> Short tele lens
10-20 ° ==> Tele lens
5-10 ° ==> Long tele lens
< 5 ° ==> Ultra-tele lens
3 Length is given from the mount flange to the front of lens at infinity.
4 Diameter excludes protrusions such as rabbit ears or stop-down levers.
5 S=straight; R=rounded; C=(almost)circular at all apertures.