Pekka Buttler, 03/2023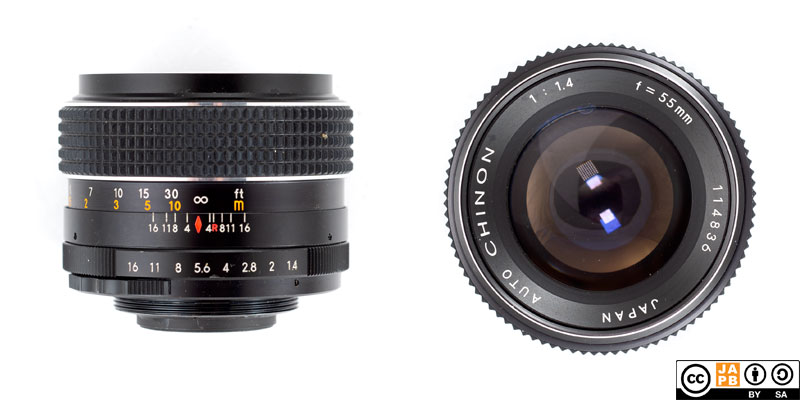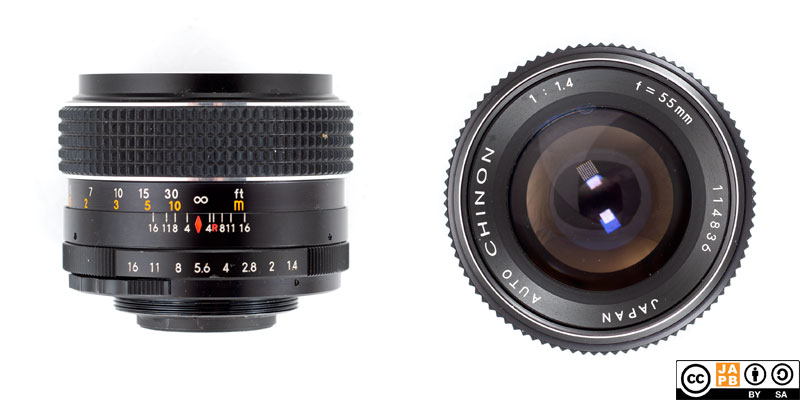 Specifications
The table below summarises the lens' key specifications (measurements based on pictured sample):
| | | | |
| --- | --- | --- | --- |
| Brand: | Chinon | Lens name | Auto 1:1.4 f=55mm |
| Focal length(s)1 | 55 mm | Angle-of-view2 | 42° |
| Maximum Aperture | f/1.4 | In Production | late 1960s – ≈ 1975 |
| Lens mount | m42 | Subfamily (if applicable) | –– |
| Length3 | 48,3 mm | Diameter4 | 66,5 mm |
| Filter ring diameter | 55 mm | Weight | 299 grams |
| Lens element count | 7 | Lens group count | 6 |
| Aperture blades (S/R/C)5 | 6 S | Focus throw | ≈300 ° |
| Minimum focusing distance | 50 cm | Maximum magnification | 1:6,9 |
| Has manual aperture ring | YES | Has Manual focus ring | YES |
Further notes:
• Alike many off-brand m42-mount 55 mm f/1.4 lenses, this too is a rebranded sample of the legendary Tomioka 55 f/1.4.
• Being a m42 auto aperture lens, it has a M/A aperture mechanism switch and a pin in the mount used to facilitate aperture automation.
• Tomioka had considerable success with its 55 mm f/1.4 lens, and it remained in production for a long time (and was sold under more names than will be ever collated). During that time, it progressed through a number of ergonomic redesigns – from metal scalloped focus rings, over metal diamond-patterned focus rings, to faux leather and other rubber focus rings [this sample]. As Chinon offered m42 cameras and lenses for a long time, many of these ergonomic variants are available under the Chinon brand.
A brief history of Chinon
Chinon is known to still photographers as one of the more advanced 2nd tier Japanese cameramakers. What might surprise still photographers is that Chinon was actually more strongly involved with motion picture photography and that this was a field within which Chinon managed to put in some industry 'firsts' (such as being the first Japanese company to produce a 8mm motion picture camera to record picture and sound simultaneously).
Chinon Industries Inc. (originally Sanshin Seisakusho) was founded in 1948 by Chino Hiroshi in the city of Chino (Nagano prefecture), originally as a subcontractor to the optics industry. In 1956 the company began manufacturing 8 mm motion picture cameras and in 1956 Chinon developed and manufactured the first zoom lens for an 8 mm camera.
In the late 1960s, likely inspired by the success other Japanese optical companies were having, Chinon started manufacturing SLRs. The first years saw relatively run-of-the-mill SLR bodies (m42 mount, stop-down metering), but Chinon soon climbed up the market ladder, and by ≈1973 Chinon was producing m42 mount SLR bodies with advanced features such as auto-exposure (on an m42 body (!)).
After Pentax abandoned the m42 mount in 1975 for their proprietary Pentax K bayonet mount, Chinon (among other Japanese 2nd tier manufacturers) followed suit. Chinon's innovation trajectory reached its apex (other may say: its nadir) its the introduction of the Chinon CE-5 – a camera that enabled you to use Chinon's patented infrared autofocus system (on select lenses) (see some more details in the JAPB article on autofocus).
After Minolta's 1985 introduction of their autofocus SLR (coupled with the somewhat lacklustre response to Chinon's introduction of their take on AF ≈3 years earlier), Chinon either lost its mojo or decided that competing with Minolta (and Canon, and Nikon, and Pentax, and Olympus, and …) was not where they wanted to spend their energy. As a result, Chinon instead silently withdrew from SLR manufacture and instead focused on point&shoots as well as the Chinon Genesis series (which could be argued to be some of the first exemplars of what we today call 'bridge cameras').
During the 1990s the name 'Chinon' disappears from store windows, but the company does not go under. Instead it first focuses on being an OEM manufacturer and has a strong, early role as OEM manufacturer of digital cameras. Later Chinon is acquired by Kodak Japan Limited.
Interestingly, for all its emphasis on designing and manufacturing technologically advanced SLRs, and earlier involvement with 8 mm lens development, Chinon did not produce its own 35 mm lenses. Instead, concerning lenses, Chinon acted as if they were a pure rebranded, and sourced its lenses from other Japanese OEM manufacturers. While one cannot often say anything precise about the origins of lenses sourced from Japanese OEM's this lens is a bit special, as it hails from the hallowed dojo at Tomioka.
Adapting
If you want to natively mount this lens you need to find a functioning m42 mount film camera. Luckily that should be relatively easy as m42 bodies were produced in their millions and most of them lack features that are especially likely to have deteriorated to the point of making the entire camera inoperable.
Adapting this lens to a mirrorless, full-frame digital camera is a breeze thanks to the lens having full manual controls (aperture ring, focus ring). You simply need a dumb adapter from m42 to your mirrorless system (And set the lens in manual mode to be sure the aperture works as you intend).
Due to the medium flange focal distance used by the m42 mount (45,46 mm), whether you can adapt this lens to dSLR/SLR mounts depends on which dSLR mount: Canon EF, Four Thirds, Minolta/Sony A and Pentax K can mount m42 lenses using a simple adapter ring. Nikon F on the other hand is not as problem-free, and – to retain anything near infinity focus – the adapter will necessitate corrective optics. In all cases, your camera will work only in stop-down metering.
Footnotes
1 Focal length is (unless stated otherwise) given in absolute terms (not in Full-frame equivalent), and according to the manufacturer's naming practice (which does not always reflect the lens' actual field of view). For an understanding of whether the lens is wide/tele, see 'Angle-of-view'.
2 Picture angle is given in degrees and concerns the diagonal picture angle. Rule of thumb:
> 90 ° ==> Ultra-wide-angle
70–90 ° ==> Wide-angle
50–70 ° ==> Moderate wide-angle
40–50 ° ==> 'Standard' or 'normal' lens
20–40 ° ==> Short tele lens
10-20 ° ==> Tele lens
5-10 ° ==> Long tele lens
< 5 ° ==> Ultra-tele lens
3 Length is given from the mount flange to the front of lens at infinity. Measured unless stated otherwise.
4 Diameter excludes protrusions such as rabbit ears or stop-down levers. Measured unless stated otherwise.
5 S=straight; R=rounded; C=(almost)circular at all apertures.