Pekka Buttler, 09/2022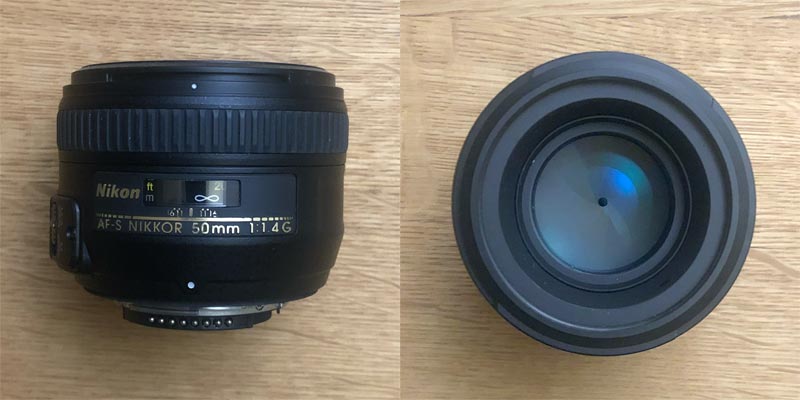 Specifications
The table below summarizes the lens' key specifications:
| | | | |
| --- | --- | --- | --- |
| Brand: | AF-S Nikkor | Lens name | 50 mm 1:1.4 G |
| Focal length(s)1 | 50 mm | Angle-of-view2 | 46° |
| Maximum Aperture | f/1.4 | In Production | 2008–> |
| Lens mount | Nikon F | Subfamily (if applicable) | AF-S |
| Length3 | 54,2 mm | Diameter4 | 73,4 mm |
| Filter ring diameter | 58 mm | Weight | 279 grams |
| Lens element count | 8 | Lens group count | 7 |
| Aperture blades (S/R/C)5 | 9 R | Focus throw | 190 ° |
| Minimum focusing distance | 45 cms | Maximum magnification | 1:6,8 |
| Has manual aperture ring | YES | Has Manual focus ring | YES |
Further notes:
• This lens is by no means a legacy lens, but as JAPB sometimes uses it as a reference lens, covering it (in the form of a data sheet) makes sense.
• Being an AF-S lens (and a G≈gelded lens to boot) the lens has an internal autofocus motor and lack an aperture ring.
A brief genealogy of Nikon SLR lens types
Nikon is undoubtedly one of the great names in 35 mm SLR photography. The Nikon F mount has been in continuous production since 1959. During that time, the mount has developed/changed in some detail, however without ever fully sacrificing compatibility.
In short (a longer version is here), the development of Nikon's SLR lenses can be traced as follows:
• 1959–1977: Pre-Ai. Manual focus lenses that use 'rabbit ears' to communicate selected aperture with the camera body.
• 1977–1986: Ai and Ai-s. Manual focus lenses that may have 'rabbit ears' for backward compatibility, but are designed to communicate selected aperture with the camera body through indentations in base of aperture control ring.
• 1986–today: AF and AF-D. Autofocus lenses that do not have a focusing motor within the lens, but rely on the focus motor within the camera. All AF and AF-D lenses are simultaneously Ai-s lenses (they are Ai-s lenses extended with AF) 6
• 1996–today AF-S and AF-P. Autofocus lenses that have an internal focusing motor and do not rely on the body having a focusing motor.
Nikon has produced 50 mm f/1.4 lenses since the original Nippon Kogaku Nikkor-S in 1962. During that time a lot has changed: coatings have improved, build quality has changed (some would say: deteriorated) and various newfangled technologies have entered the field. Even so, during that entire time, Nikon has used only three optical designs across all fast fifties, and these are all fundamentally variants on the same theme (the advanced planar / double-gauss). A quick summary of these optical designs is reproduced below:
• 1962–1976: (F, C, and K types): 7 elements in 5 groups
• 1976–today: (K, Ai, Ai-s, AF/AF-D): 7 elements in 6 groups
• 2008–today: (AF-S): 8 elements in 7 groups
Adapting
Besides adapting, this lens can be used natively on all Nikon dSLRs and some Nikon SLRs7. Furthermore, using a Nikon FTZ adapter on a Z-class Nikon Mirrorless body the lens will have its full funkctionality.
The lens can be adapted to a wide range of mirrorless cameras, assuming the adapter allows the manipulation of the lens' aperture lever (the lens itself lacks an aperture ring). Problematically most such adapters detents do not correspond to full stops, but the lens remains somewhat usable. Luckily the lens has a manual focus ring, hence it does not necessitate a smart adapter.
While Nikon F lenses can ordinarily be used on non-Nikon SLRs and dSLRs this is not the case with G lenses (the lens will always be set for minimum aperture).
Footnotes
1 Focal length is (unless stated otherwise) given in absolute terms, and not in Full-frame equivalent. For an understanding of whether the lens is wide/tele, see 'Angle-of-view'.
2 Picture angle is given in degrees and concerns the diagonal picture angle. Rule of thumb:
> 90 ° ==> Ultra-wide-angle
70–90 ° ==> Wide-angle
50–70 ° ==> Moderate wide-angle
40–50 ° ==> 'Standard' or 'normal' lens
20–40 ° ==> Short tele lens
10-20 ° ==> Tele lens
5-10 ° ==> Long tele lens
< 5 ° ==> Ultra-tele lens
3 Length is given from the mount flange to the front of lens at infinity.
4 Diameter excludes protrusions such as rabbit ears or stop-down levers.
5 S=straight; R=rounded; C=(almost)circular at all apertures.
6 There is a further sub-class of AF-D lenses called AF-I lenses that are otherwise AF-D lenses (meaning, fully Ai-s compatible), but have an internal focus motor. Only long tele lenses were made in AF-I variants.
7 As of this writing, the following Nikon film SLRs fully support G lenses (even though other features such as VR may not work): F5, F6, F55, F60, F65, F75, F80, F100, F401s. Moreover, pretty much all Nikon AF SLR (with the exception of the 501s) allow using G lenses in a limited (to shutter priority and program auto) fashion.