Pekka Buttler, 11/2022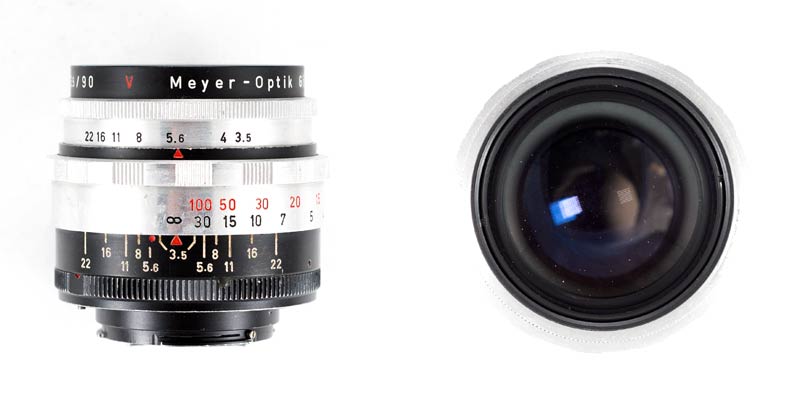 Specifications
The table below summarizes the lens' key specifications:
| | | | |
| --- | --- | --- | --- |
| Brand: | Meyer-Optik Görlitz | Lens name | Telefogar 3.5/90 |
| Focal length(s)1 | 90 mm | Angle-of-view2 | 27 ° |
| Maximum Aperture | f/3.5 | In Production | 1957–1960 |
| Lens mounts | Altix (M42, Exakta) | Subfamily (if applicable) | –– |
| Length3 | 48,0 mm | Diameter4 | 58,1 mm |
| Filter ring diameter | 46/49 mm | Weight | 253 grams |
| Lens element count | 4 | Lens group count | 3 |
| Aperture blades (S/R/C)5 | 12 S | Focus throw | 270 ° |
| Minimum focusing distance | 1,5 m | Maximum magnification | 1:14,6 |
| Has manual aperture ring | YES | Has Manual focus ring | YES |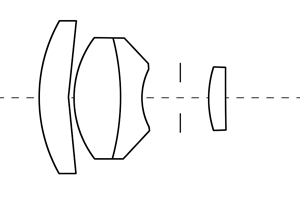 Further notes:
• The Telefogar is a bit of an oddity, because it was introduced specifically to be used on the Altix series of interchangeable lens leaf shutter cameras, where none of MOG's other Tele lenses (especially the Trioplan) could be used.
• Officially the Telefogar was only ever launched for the Altix line of cameras, but a number of Telefogars can be found offering other mounts – most often Exakta (as in the pictured sample) and m42, but I recently was offered a Telefogar with a Miranda 44 mm thread mount. These non-Altix mounts are most often aftermarket modifications, but the quality of my lens' Exakta mount would indicate that MOG might have offered some batches with other mounts.
• The basic design of the Telefogar is a 4 elements in 3 groups Sonnar-type. According to my data, the Telefogar was only ever offered as multicoated. It features a manual aperture (with click stops) with 12 aperture blades, and a longish MFD in a very compact package.
• The Telefogar was supplied with a short lens hood (the silver ring in the picture above) that offered 49 mm filter threads, but that hood in itself was attached using 46 mm threads. Hence, you can use 46 or 49 mm filters on the Telefogar.
History of Meyer-Optik Görlitz
The original Meyer-Optik Görlitz (not the modern company that has taken the classic company's name) was founded in the town of Görlitz (modern-day Germany) by Hugo Meyer in 1896, and remained in existence until the state-directed merger into VEB Pentacon 1970. Due to its vicinity with the German camera and optics industries in Saxony (Dresden, etc.), Meyer-Optik was from an early stage heavily involved with manufacturing lenses for all kinds of cameras, but the company's real golden age started with the advent of interchangeable lens cameras, where Meyer-Optik was uniquely placed to offer a cost-effective alternative to premium brands such as Carl Zeiss Jena.
Meyer-Optik was pronouncedly a camera lens manufacturer and never had serious ambitions for pursuing horizontal integration (diversifying into cameras and other photo gear). Instead, MOG pursued a vigorous strategy of seeking economies of scale, combined with never putting too many eggs in any basket – typically Meyer-Optik would choose which designs to put into production based on being able to cover as many platforms/mounts with one basic design. As a result, many early MOG designs were made available for a wide range of camera platforms. Later, as the number of alternative platforms diminished, that strategy had to go in favour of a strong focus on M42 and (to a somewhat lesser extent) Exakta. Even so, throughout the 60s, MOG vigorously pursued innovative designs and could by the end of the decade proudly offer a wide range of high-quality, cost effective designs.
When the lens maker Meyer-Optik was then merged with the camera maker Pentacon, it became obvious that the role the company (and its product portfolio) was intended to play was to aid Pentacon in its designs of gaining a significant global market share in the price-conscious consumer segment (and help bring hard currency to the G.D.R). Instead of focusing on continued optical innovation, the new overlords were more keen on redesigning lenses for greater economy and easier manufacture. As a result, the pace of optical innovation at MOG/Pentacon fell drastically, and very few new designs or significant redesigns were to be forthcoming in the next two decades.
However, the Meyer-Optik Telefogar comes from what would later be known as the golden decade of Meyer-Optik.
Versions
There seems to only ever have been one version of the Telefogar, but as noted, a lot of mechanics have made aftermarket modifications to the Telefogar. Hence uniformity can not be taken for granted.
Adapting
n.B! The following applies this lens in the original Altix mount. If your copy uses another mount, look up the JAPB articles on those mounts.
This lens cannot be used natively on any current cameras. To use it in its native environment, you will need an Altissa Altix interchangeable lens viewfinder body. These were manufactured in large (for the 1950s) numbers and many of them are still in a serviceable condition.
Thanks to being a fully manual lens (manual aperture, manual focus), there are no showstoppers against adapting the lens to a mirrorless camera, assuming you can find a suitable adapter. However, currently none of the major adapter manufacturers offer adapters for using Altix mount lenses, hence you'll either need to use a DIY adapter or purchase a craftsman's adapter off eBay (or similar marketplace).
Using Altix lenses on dSLRs is basically not an option (except if you're the quintessential DIY-er) because no adapters are available and the Altix mount's rather short flange focal distance of 42,5 mm would preclude infinity focus on all full frame dSLR mounts.
Read more:
• Telefogar on zeissikonveb.de
• Telefogar on hidekatsu.com
Footnotes
1 Focal length is (unless stated otherwise) given in absolute terms, and not in Full-frame equivalent. For an understanding of whether the lens is wide/tele, see 'Angle-of-view'.
2 Picture angle is given in degrees (based on manufacturers' specs) and concerns the diagonal picture angle. Rule of thumb:
> 90 ° ==> Ultra-wide-angle
70–90 ° ==> Wide-angle
50–70 ° ==> Moderate wide-angle
40–50 ° ==> 'Standard' or 'normal' lens
20–40 ° ==> Short tele lens
10-20 ° ==> Tele lens
5-10 ° ==> Long tele lens
< 5 ° ==> Ultra-tele lens
3 Length is given from the mount flange to the front of lens at infinity.
4 Diameter excludes protrusions such as rabbit ears or stop-down levers.
5 S=straight; R=rounded; C=(almost)circular at all apertures.