Pekka Buttler, February 2021 – June 2022
Welcome to part 6 of the JAPB comparison of nine fast fifties. This is a big article, which has been subdivided into several parts for convenience and the sake of humane loading times.
This is Batch I of JAPB's comparison of fast fifties. Have a look also at the 'cover page' of the entire fifties -comparisons here.
Table of contents
• Part 1: Introduction, the lenses: pedigree and handling
• Part 2: IQ-comparison I – The Brick wall test
• Part 3: IQ comparison II – Urban vistas
• Part 4: IQ-comparison III – Bokeh and blur
• Part 5: IQ-comparison IV – Night-time vistas
• Part 6: Summary and conclusions (you are here)
• Summary and conclusions
• Results
• Canon FD 'chrome nose' 50 mm f/1.4
• Canon FDn 50 mm f/1.4
• Carl Zeiss Jena Prakticar 50 mm f/1.4
• Carl Zeiss Planar 50 mm f/1.4
• Konica Hexanon AR 50 mm f/1.4
• Minolta Auto Rokkor-PF 58 mm f/1.4
• Minolta MC Rokkor-PG 50 mm f/1.4
• Pentax-M (SMC) 50 mm f/1.4
• Revuenon (Auto) MC 50 mm f/1.4
• Last Words…
---
Summary and conclusions
The point of a side-by side comparison is to be able to evaluate a lens' performance in the most honest and brutal way: by looking at the performance of a lens and comparing it against the performance of another lens. Again, we're not testing all samples of a lens ever made, but only the samples we have on hand (read more in JAPB principles for reviews and comparisons).
Unless you want to read some more philosophical musings about what makes a good lens (next), you might want to jump ahead to the results.
What makes a good lens?
I believe that comparisons such as this can offer you a great deal of knowledge – it did for me. I've had all these lenses prior to subjecting the to this review. I've used them, taken pictures with them, and scrutinised the results. Still, only by scrutinising a photo side by side with another photo can I start seeing where each lens has its strengths and weaknesses.
Admittedly, some strengths and weaknesses are evident from looking at a lens' specifications: A lens with a longer focal length offers a narrower field-of-view than a lens with s shorter focal length; a lens with a shorter MFD is more versatile than one with a significantly longer MFD, and a heavier lens is less fun to schlepp around. That said, even while such characteristics may be evident without needing to do more than looking at a data sheet, the significance of such characteristics, such as the utility of a short MFD or whether 370 grams is heavy for a fast fifty (especially considering that many modern fast fifties weigh the double of that), are relatively individual.
On the other hand, there are other characteristics that are not discernible from a data sheet, such as whether the aperture ring offers intermediate stops, or how pleasing the aperture ring is to use. Among such traits are also focus ring motion, how easy the lens is to use without looking (where the control rings are located and whether they are easy to discern and grip), as well as the overall balance (centre of mass) of the lens. All these have an impact on the lens' usability (even though usability also is dependent on individual needs). On the other hand, these are all traits which you can ascertain without ever needing to take a single photo with the lens. Simultaneously, should the image quality be utter garbage, one could argue that whatever ergonomic affordances the lens might offer are utterly meaningless. If all you're looking for is a paperweight, there are surely cheaper approaches. And who really needs paperweights in this day and age anyhow?
Not surprisingly therefore, evaluations of optics tend to place significant emphasis on the optical qualities of lenses. This comparison is no different. Image quality, however, is not a uni-dimensional concept. A lens might offer high resolution but lacklustre contrast performance; a lens' performance in daylight may be stellar, while its low-light performance might suffer.
The problem with passing judgement
Problematically, we should not assume that all photographers share preferences. One might need a lens for nighttime street photography and another wants a lens for architecture photography, one may value bokeh over sharpness, one may want a legacy lens for adapting to digital while another one might need the lens for his equally old film SLR. In short, the problem with all judgements about a lens' quality is that the judgements are personal – related both to the needs of that person as well as to that person's points of reference. In short: YMMV.
Some review sites aim at reducing a lens' performance to a percentage, or an average grade (maybe even with decimals) or a number of stars or turtles… All such approaches assume that the preferences and use cases of all photographers are identical. While making good copy, this approach is fundamentally flawed. Just to take one example: with the renaissance of analogue photography, geometric distortions and vignetting (two lens handicaps easily corrected in digital post production) are again becoming important. Thus whether such handicaps should be of interest depends centrally on the intended uses of the lens. Hence, reviews should either limit themselves to enumerating and describing the traits of a lens or – should they aim to be prescriptive – sufficiently take into account the typical usages of the lens.
Results
Make no mistake, each lens in this comparison evidenced both strengths and weaknesses – not that they all need be evident from the photos unless you are in the habit of making large-scale blow-ups or are a pixel peeper (as many photographers are today). Also, while some lenses displayed more weaknesses than others, all these lenses were very capable of producing at least decent results – when used correctly and when circumstances were not too adverse. The following paragraphs will try to briefly evaluate each of the tested lenses. Remember that these results are only indicative of these, tested samples and that any value judgments are the author's.
Canon FD 50 mm f/1.4 'chrome nose'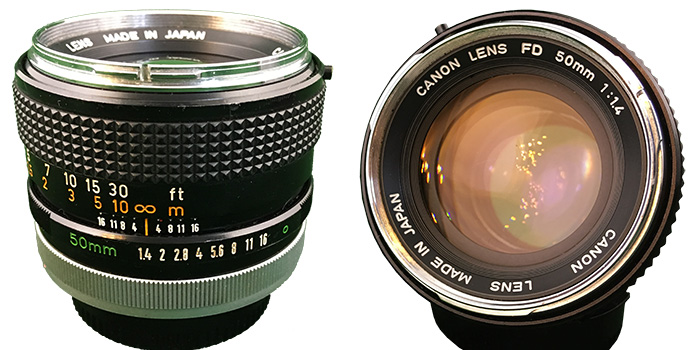 Basic specs and handling
The 'chrome nose' Canon is both the heaviest and longest lens in the comparison and even has the biggest diameter. Even though it is not a lot bigger and heavier, the difference is still noticeable. While among the older lenses in the comparison, it is still a 1970s (not 1960s) lens
Build quality and ergonomics are fantastic, and the lens has a heft to it that makes it a joy to use (on an equally hefty body) or puts the camera to shame. Personally I find it a bit heavy relative to my Sony ⍺7R2, and seriously unbalanced on a Sony ⍺7R, but I imagine it would feel right at home on a Lumix S1R. The control rings (focus and aperture) are tactile and precise, and the aperture ring even offers half-stops all the way from f/1.4 to f/16. Even though the lens is from 1972, it sports a bayonet attachment for a lens hood. The lens' silver/chrome front (early FD lenses had those) makes it visually distinct.
Image quality
This lens' designers clearly knew their **it. Yes, it's a brute of a lens, but – aside from a propensity towards relatively heavy wide-open vignetting – it performs brilliantly in all but the most gruelling high-contrast situations and even then the lens' performance must be classed as more than adequate. Interestingly, while it is outclassed by its newer sibling in high-contrast situations – most likely thanks to the FD's more up-to-date coatings – I have to rate this as the overall better performer.
Here's a gallery of further test shots with the Chrome Nose Canon FD 50 mm f/1.4: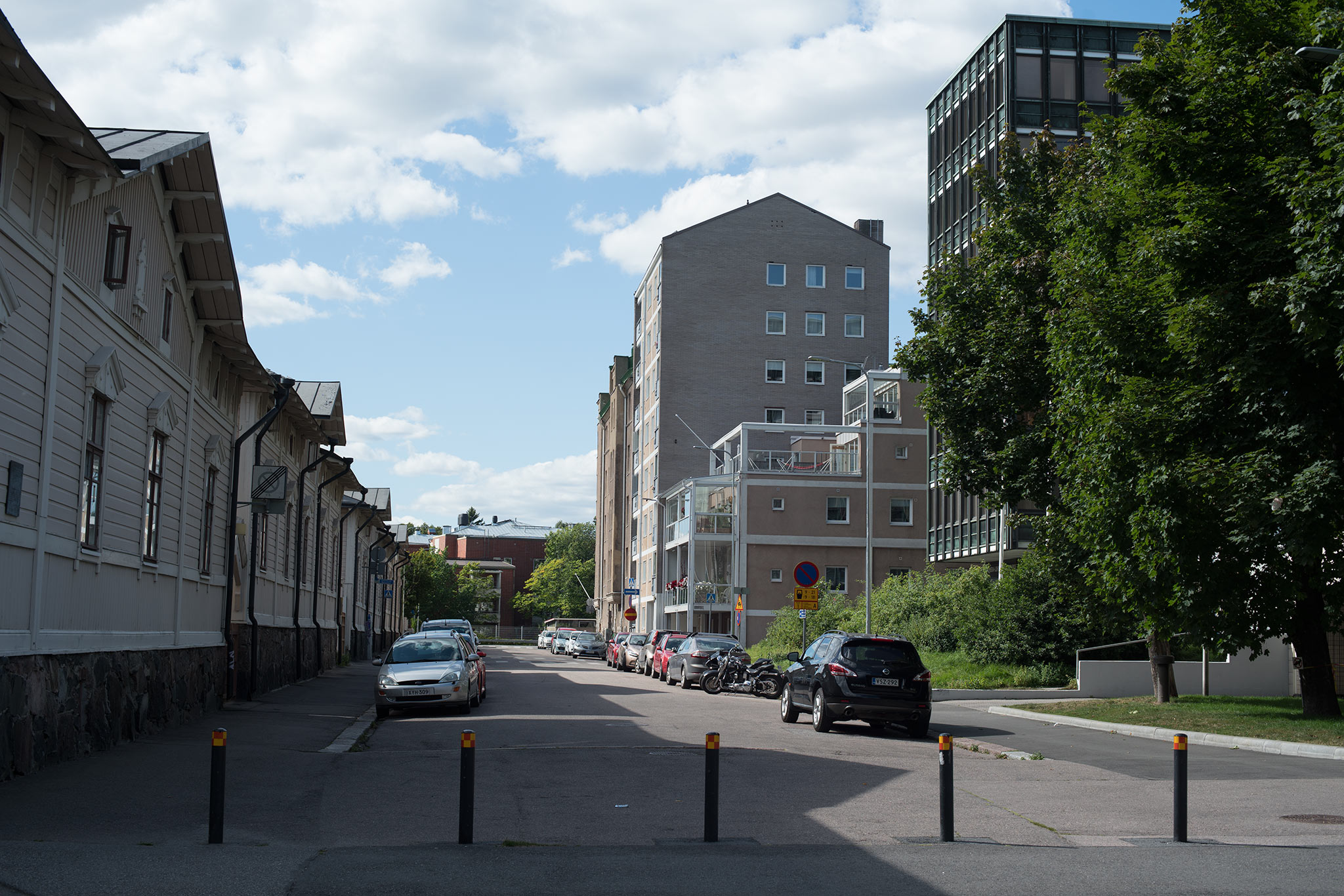 Canon FDn 50 mm f/1.4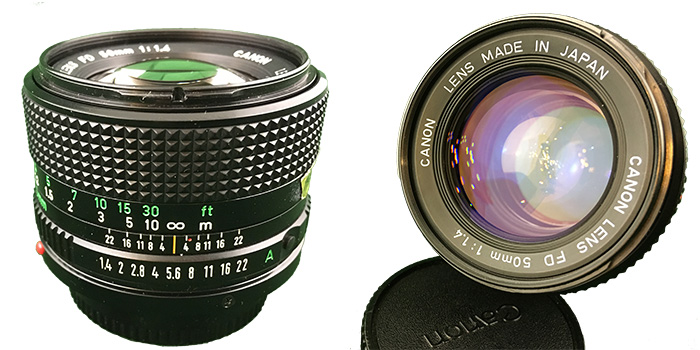 Basic specs and handling
Launched only 8 years after the Chrome Nose FD, the FDn 50 mm f/1.4 is a thoroughly modern legacy fast fifty. At 234 grams it is the lightest lens in this comparison, and it offers all the affordances auto-exposure oriented photographers had come to expect. Whereas the chrome nose FD was designed to match a Canon F-1, the FDn matches perfectly with an AE-1 or even an AL-1.
Significantly smaller and lighter than its older sibling, the FDn might find its way into a photographers' bag more regularly. And even though I don't decry plastic in general, this lens simply is more an exercise in rationalisation and economic-mindedness than workmanship and over-engineering. As a result, the photos it produces far outstrip the the feel of quality one gets from handling the lens.
Image quality
And obviously Canon engineers knew their stuff. Even though I personally don't rate it (overall) on par with its older sibling, it does have distinct advantages: It handles high-contrast situations very well, it's less prone to flaring or ghosts and if astrophotography is your bang, then this is one (of very few) legacy fast fifty to reckon with. Also, while it loses to its older sibling in some key areas, this lens is without a doubt one of the better ones in this comparison.
Here's a gallery of further test shots with the Canon FDn 50 mm f/1.4: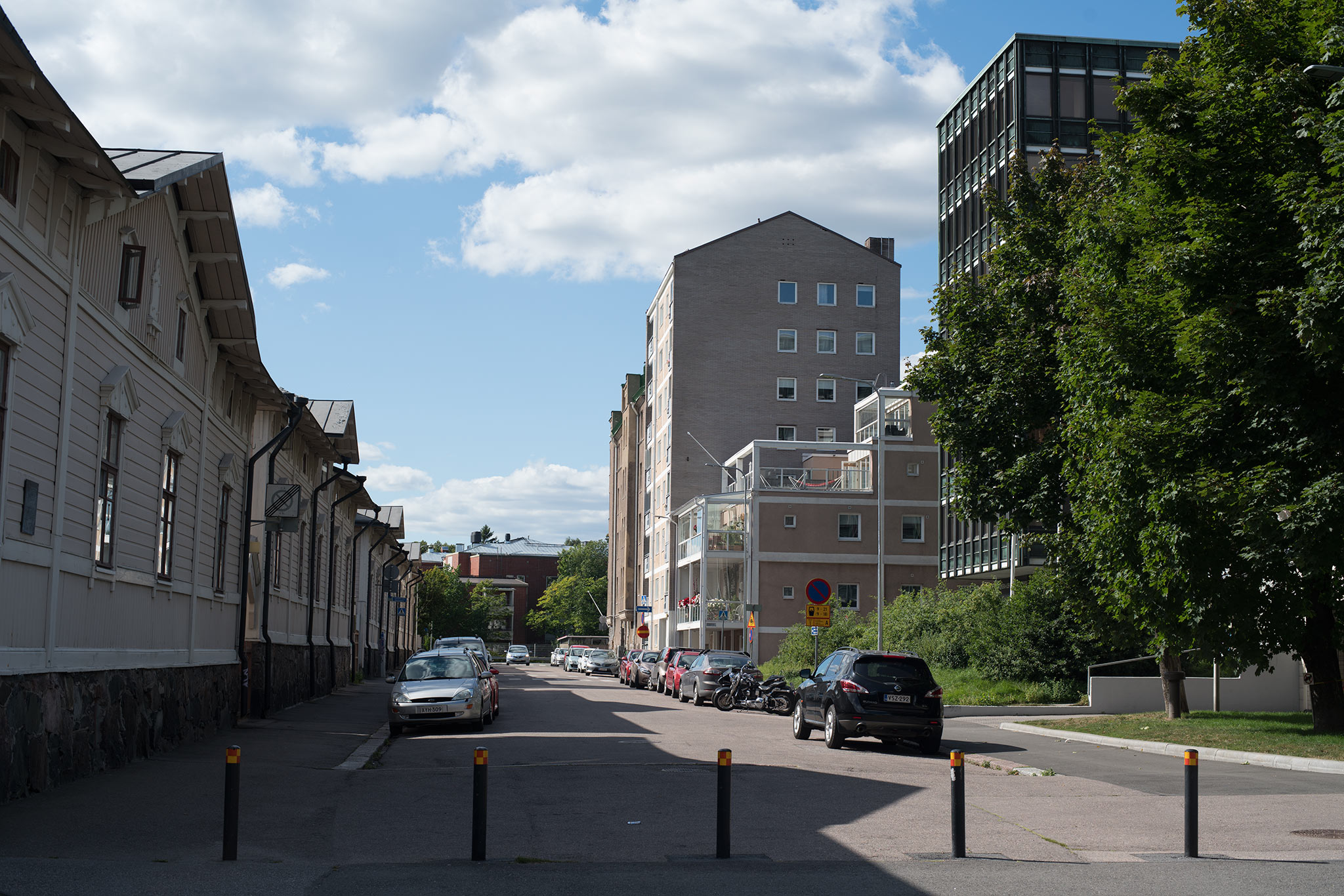 Carl Zeiss Jena Prakticar 50 mm f/1.4 MC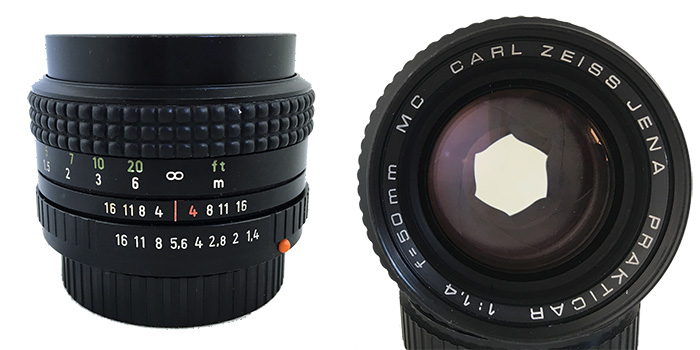 Basic specs and handling
Personally I find myself quite liking the experience of shooting this lens – both on a Praktica B200 as well as on a Sony ⍺7 -series camera. The focusing ring is one of the nicest to grip I've ever encountered (personally, I like the rubber compound and patterning used by CZJ on Praktica B lenses), and its movement is very satisfying. While the aperture ring is far from the nicest ever (I very much like the 60s Takumars in this respect), it does its job without issue and – IMHO – is one of the better ones in this comparison – thanks only in part to it offering intermediate stops all the way from maximum to minimum aperture.
Image quality
I've referred to this as the "Think different"-lens, because whereas I kind-of feel that all other fast fifties in this comparison try to aspire to the same ideal (and fall short in various, minor ways), it would almost seem as if this lens' designers had had something entirely else in mind – as if they were aiming for a different goal. (Alternatively, they had the same goal and just failed rather spectacularly.)
You'll either love this lens for the colour rendition, tonality and ethereal images it produces at wider apertures, or you'll hate its dreaminess, its significant field curvature and its quirky aperture shape.
One thing's for sure: I might not yet know how to make the most of this lens (I actually have some way to go before that), but I'm going to hold on to it and try to learn it.
Here's a gallery of further test shots with the Carl Zeiss Jena Prakticar 50 mm f/1.4 MC: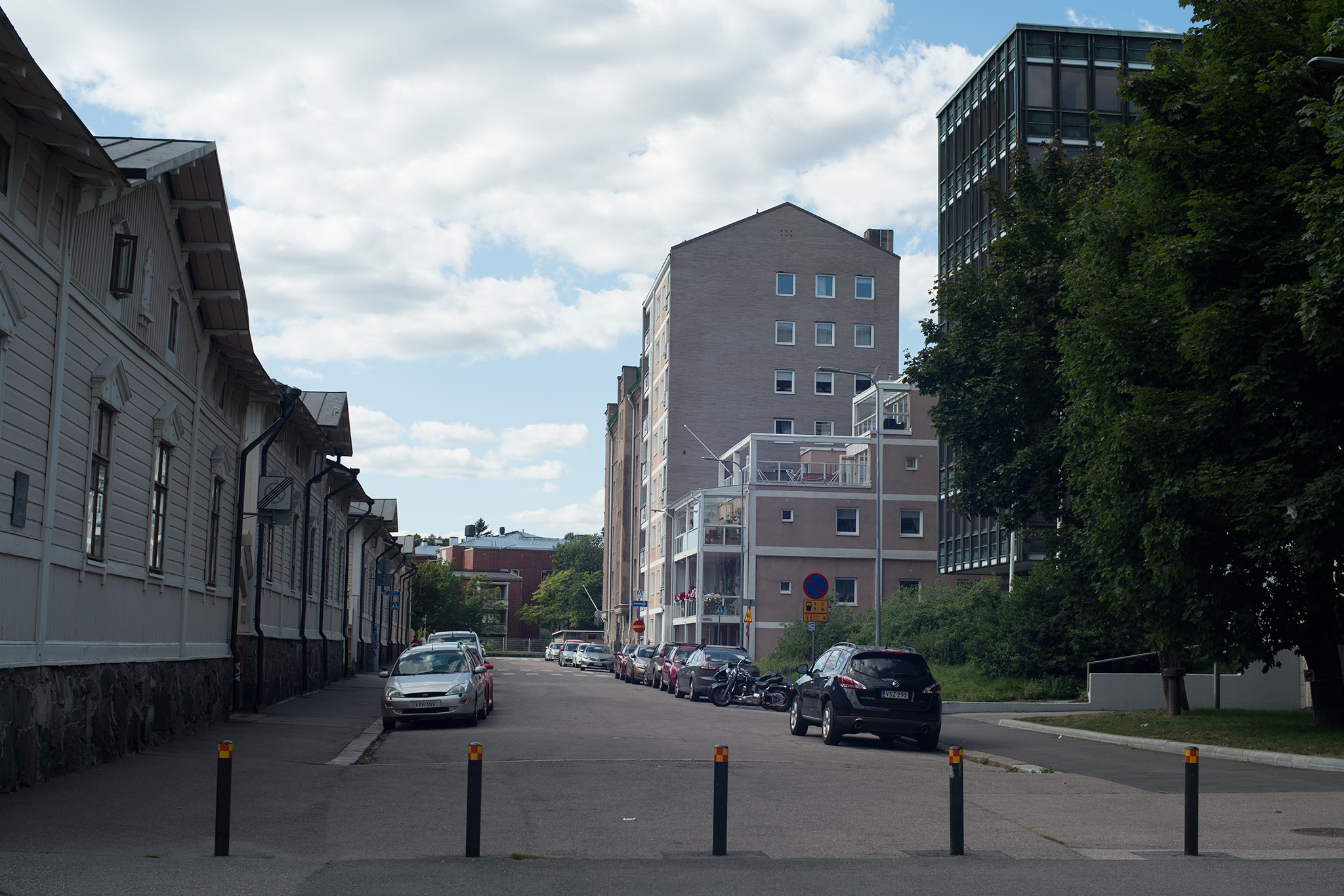 Carl Zeiss Planar 50 mm f/1.4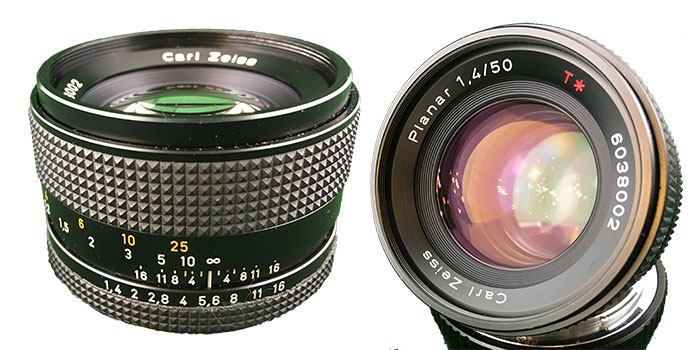 Basic specs and handling
In some respects a very medium lens: medium weight; medium size.
In other respects everything but: Designed from the bottom-up as a premium lens for a premium brand, it even today commands a premium price.
Handling, ergonomics, build quality: The Zeiss has it all.
Image quality
Good to very good, but not perfect. Firstly, the Planar is a balanced package that does not stumble at close range, nor does it disappoint at long distances; it works as well in bright daylight and at night. It might not be the best in any respect, but it puts in a good, even performance. Its only real weakness is in an above-average propensity towards off-centre chromatic aberrations. Personally, I am also not enamoured of its rendering of out-of-focus backgrounds, but I admit that YMMV.
In sum, if you would have to choose one – and only one – legacy fast fifty to serve you in every kind of conceivable situation, the Zeiss Planar would be an immensely strong contender.
Here's a gallery of further test shots with the Carl Zeiss Planar 50 mm f/1.4: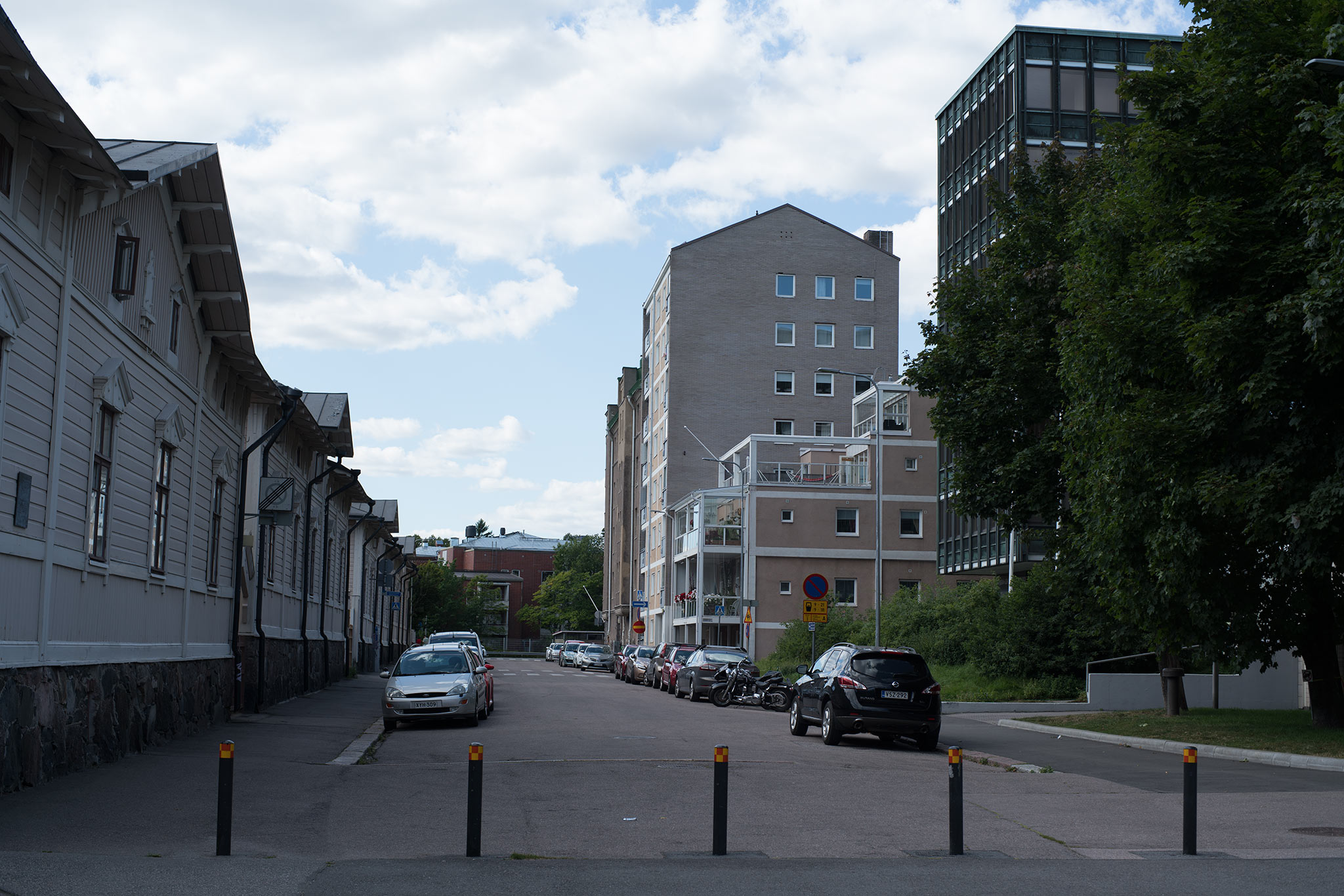 Konica Hexanon AR 50 mm f/1.4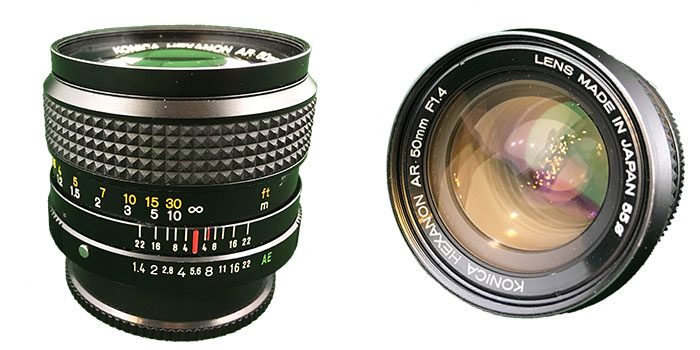 Basic specs and handling
A high-quality fast fifty from a manufacturer with an admirable track record. Looking at the basic dimensions (length, diameter, weight), this lens is very close to the Zeiss Planar, and while the Planar has some indistinguishable trait of quality that the Hexanon not quite matches, the lens does feel like a quality product. When mounted on a shutter priority or program auto Konica film SLR, the lens is in its element, but when used adapted on a modern mirrorless digital camera the negative characteristics of its aperture ring do make themselves felt.
Image quality
A bit of a mixed bag. In some of the the sharpness tests in this comparison the Hexanon makes it into the top-3 (or close), in others it lands in the bottom-3. It would seem this design (or this sample) is optimised towards the shorter range (MFD–five meters) and when shooting for landscapes, one should be prepared to stop down the lens another stop or two. While Konica is not one of those brands to ever have bragged with their coating technology (no T* or S.S.C here), the Konica's handling of backlight seems more than a match for lenses from a similar era.
Here's a gallery of further test shots with the Konica Hexanon AR 50 mm f/1.4: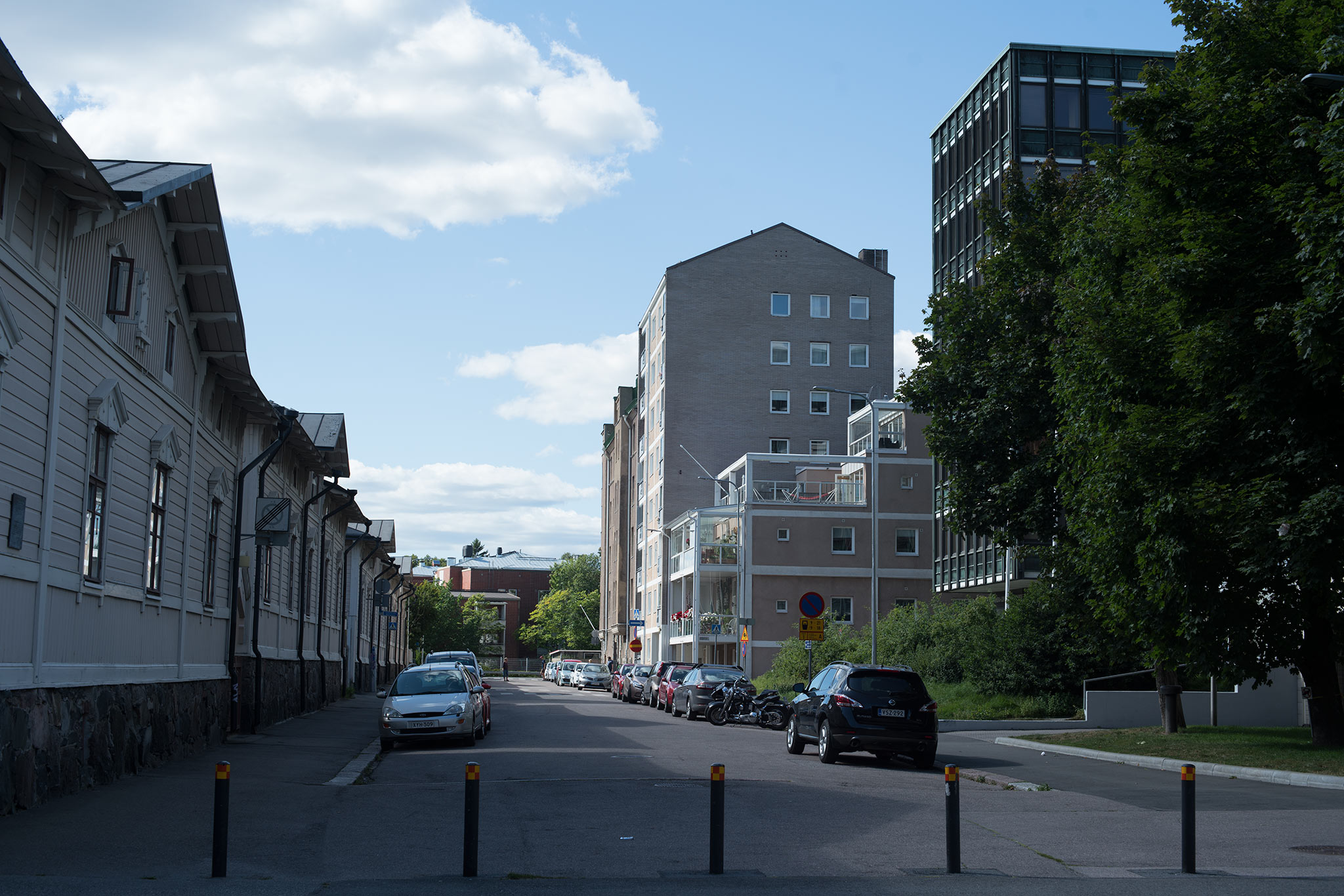 Minolta Auto Rokkor-PF 58 mm f/1.4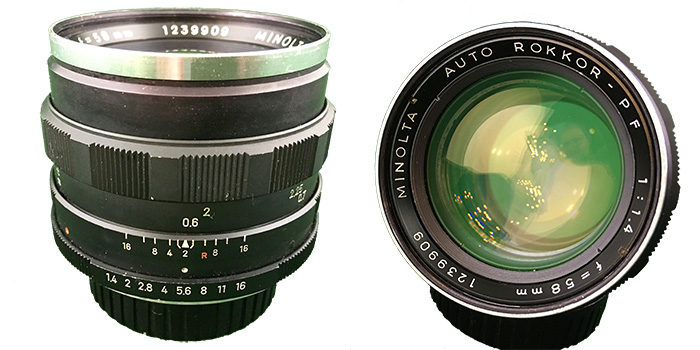 Basic specs and handling
The oldest lens in this batch – and it shows. Heavy, solid, and entirely devoid of plastic or rubber. It also shows in being a bright standard-ish lens that does not state 50 mm as its focal length (with 1950s/early 60s methods f/1.4 could more easily be achieved in the 55–58 mm range). Also, as it was designed for a camera mount where not all bodies used open-aperture metering, it sports a control for aperture stop-down.
The build quality is simply brilliant, and while there are some design aspects that I would have tweaked (broader, more grippy aperture ring, half-stop indents), these are minor issues. It is, however, a photographers' lens, and lacks some of the finessing that one would expect from a product targeted at the masses. If you are intimidated by a camera that cannot think for itself, you might want to steer away from this lens.
Image quality
Obviously, this sample laboured under some quite stringent limitations in this test, and I will not comment on the lens' ability beyond the medium-range.
However the close-range samples show a lens that does not score highly in the sharpness-department (neither definition nor contrast). What it does however show is a lens that manages to have a kind-of special feel and that has a very nice quality to its out-of-focus areas. I'd therefore imagine that this lens would be more than capable of working as a vintage-y portrait lens.
Here's a gallery of further test shots with the Minolta Auto Rokkor-PF 58 mm f/1.4: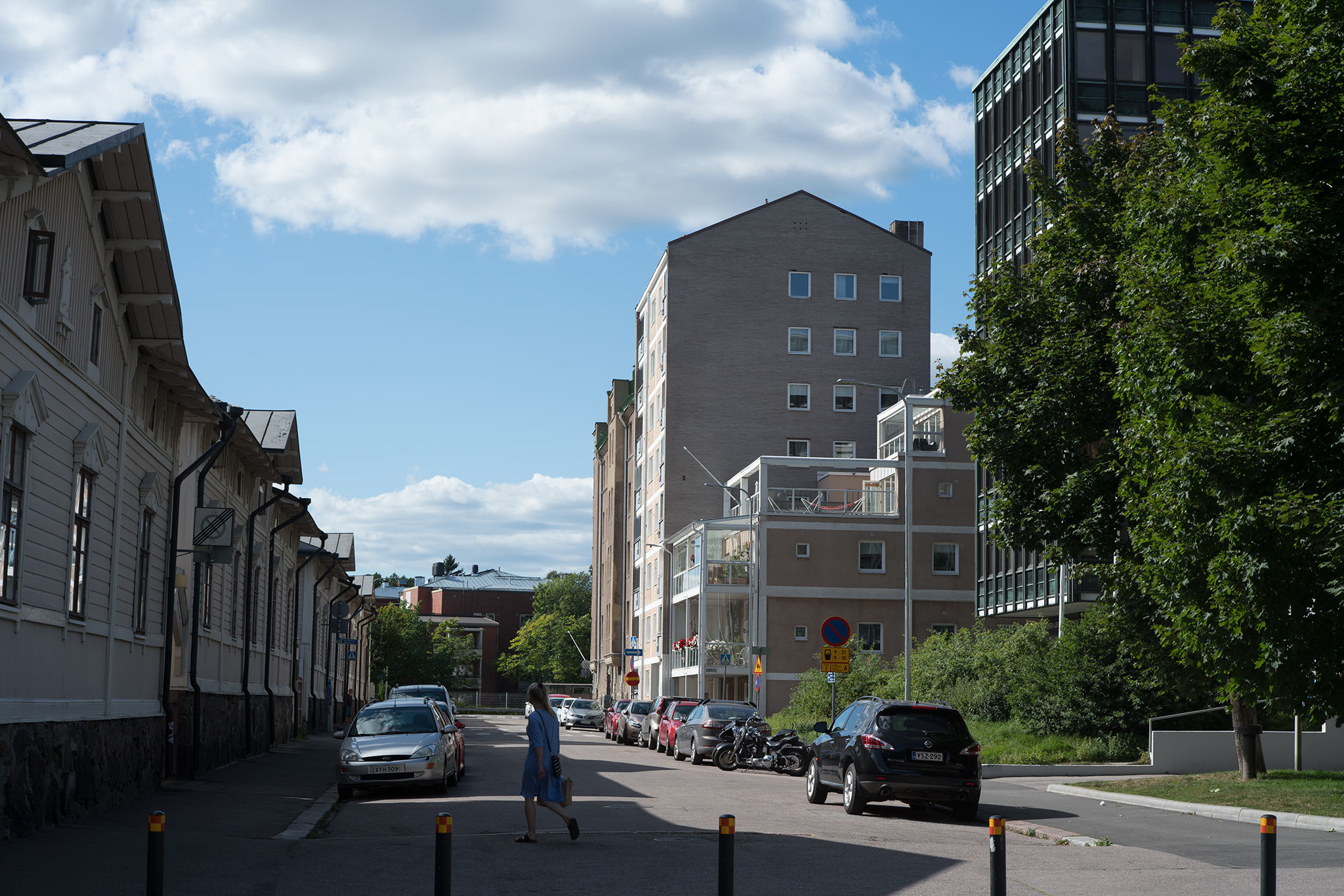 Minolta MC Rokkor-PG 50 mm f/1.4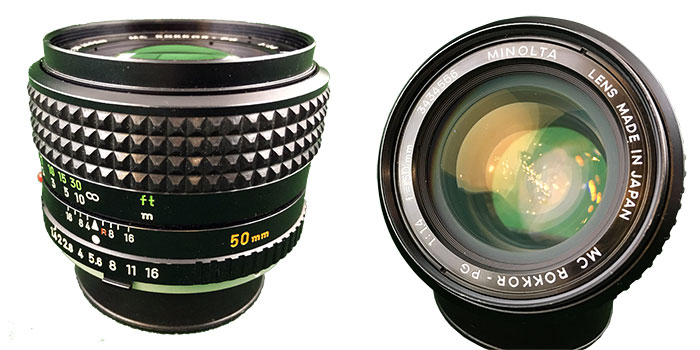 Basic specs and handling
The 50 mm Minolta is a lens that has very nice handling characteristics. If you want to avoid the earliest fast fifties because of their heft or their quirks, and want to avoid the latest fast fifties because of their use of plastics and too-far-gone miniaturisation, this lens might very well be your dream lens. Granted, its focus throw could have been a bit longer, its MFD could be a bit more forgiving (5 more centimetres would take it on-par with the bulk of the competition) and it could offer the intermediate stop between wide open and f/2, but these trifles notwithstanding, the 50 mm Minolta is a heck of a lens to carry and handle.
Image quality
Interestingly, this lens would seem to be optimised for long-range work. Its performance in the brick-wall test was outright disappointing, but its performance improved as the focusing distance got longer and in the long-range and near infinity tests the lens often landed in the top-three. While one could question the lens designer's decision to optimising a 50 mm lens for infinity-is work, that nevertheless seems to have been the choice made at Minolta. As the lens further seems to suffer less chromatic aberrations than most, it can heartily be recommended as long as short-range performance is not a prime requirement.
Here's a gallery of further test shots with the Minolta MC Rokkor-PG 50 mm f/1.4: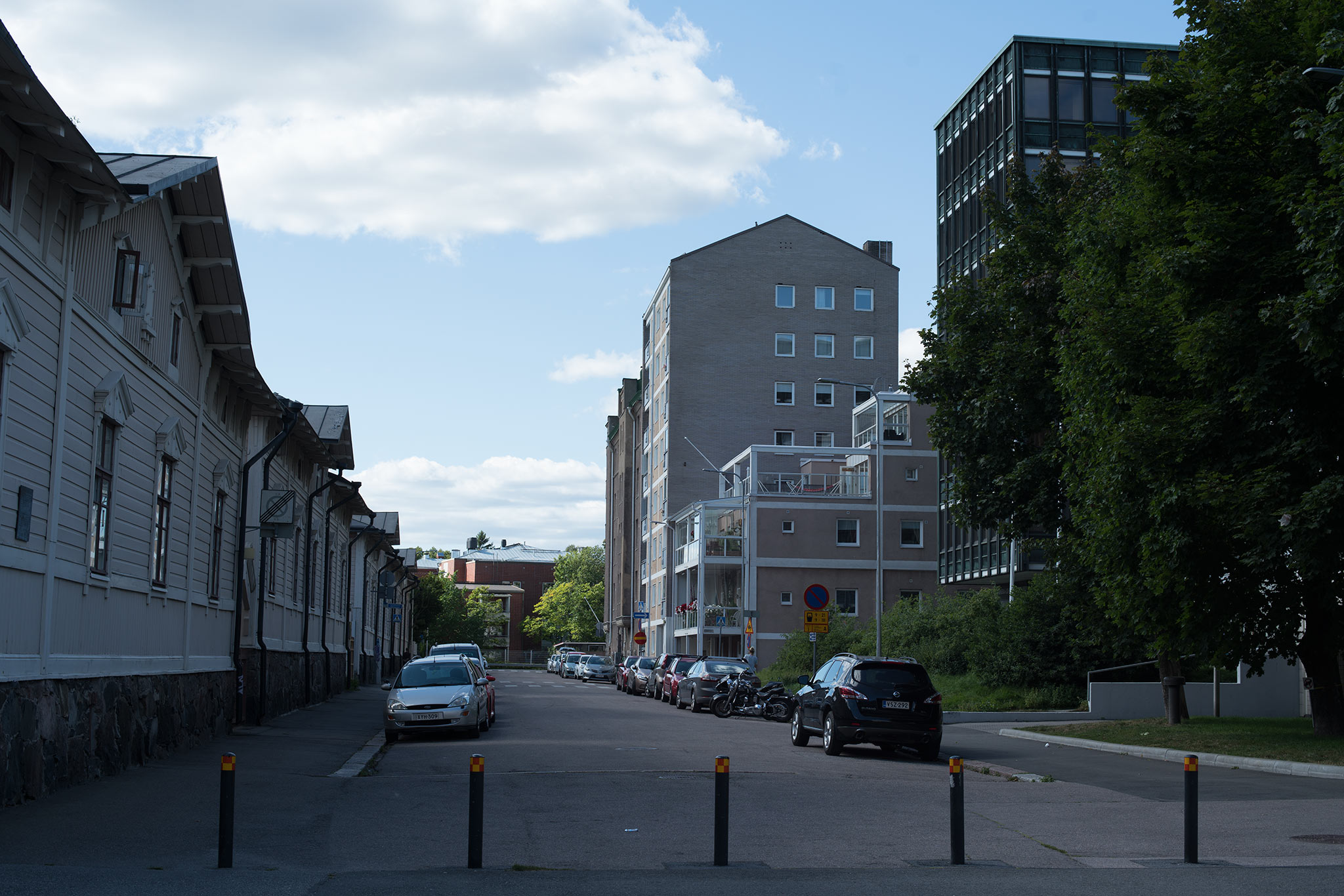 Pentax-M (SMC) 50 mm f/1.4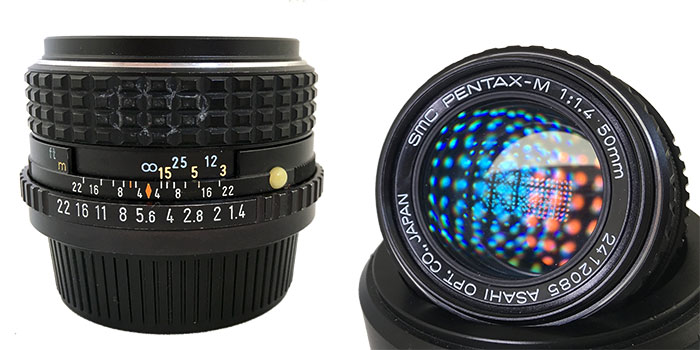 Basic specs and handling
With its rather diminutive size, light weight and f/22 minimum aperture the Pentax is part of the general trend in fast fifties. Luckily the ergonomics and handling of the lens are well thought-out, making the package manageable even for a 'mr. stubbyfingers' like me. The fact that I'm having a hard time saying anything interesting is indicative of the Pentax's characteristics: there is absolutely nothing wrong with it, nothing out of the ordinary, but neither does its handling produce any especially positive associations.
Image quality
At close range the Pentax is a very good performer and its results are more than usable even wide open. In general the Pentax seems to not suffer especially badly in high-contrast transitions, but its long-range performance leaves something to be desired as it seems to have a general lack of definition and needs to be stopped down one or two steps further to be competitive with the best-performing lenses.
Here's a gallery of further test shots with the Pentax-M (SMC) 50 mm f/1.4: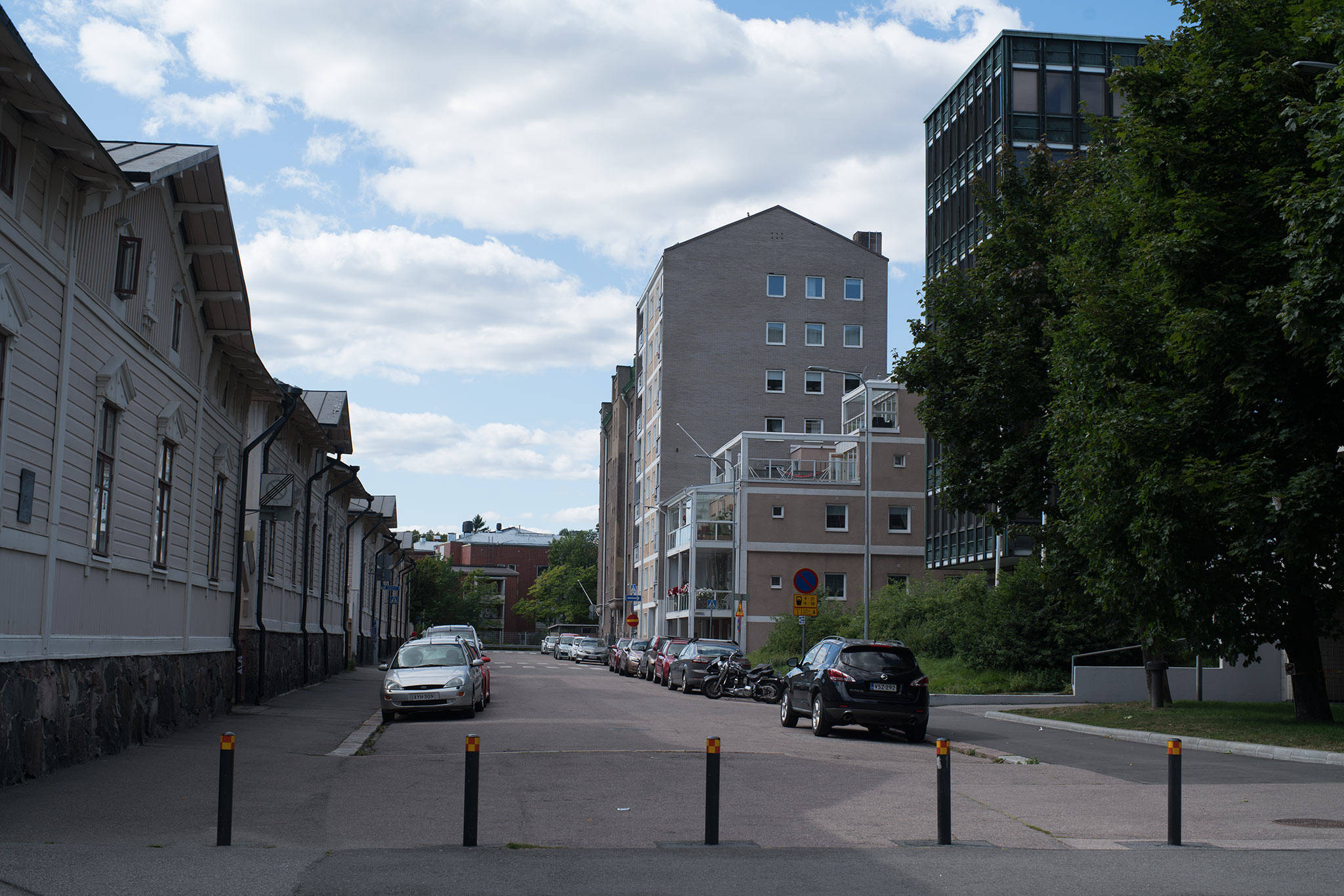 Revuenon (Auto) MC 50 mm f/1.4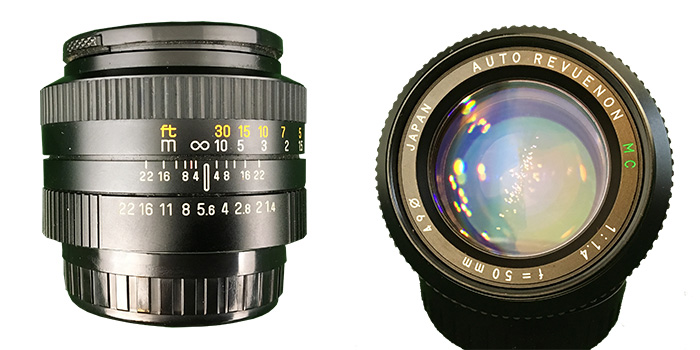 Basic specs and handling
Alike the Pentax-M, this lens is very much a representative of the class of late, manual-era fast fifties: rather small, definitely not heavy, f/22. Even so, its styling sets it apart from the rest of the field, and that styling is liable to be divisive. While I otherwise have no gripes about its ergonomics or handling, I do feel that the aperture ring is somewhat ragged.
Image quality
This has got to be a sleeper in this comparison. While the other names in the comparison are all from the greatest Japanese and German camera makers, one hardly expects much from a lens that was sold in bulk to a German retailer to be offered as a house-brand product.
Admittedly, the Revuenon does not do very well in the short range sharpness tests (neither are its results dismal), but thereafter the Revuenon manages every comparison in high style, often being in the top-3, sometimes even being numero uno. Especially considering that the Revuenon is up against some very stiff competition – including top-of-the-line products from marques such as Canon, Carl Zeiss, Minolta and Pentax – the Revuenon's result is nothing short of breathtaking.
Here's a gallery of further test shots with the Revuenon (Auto) MC 50 mm f/1.4: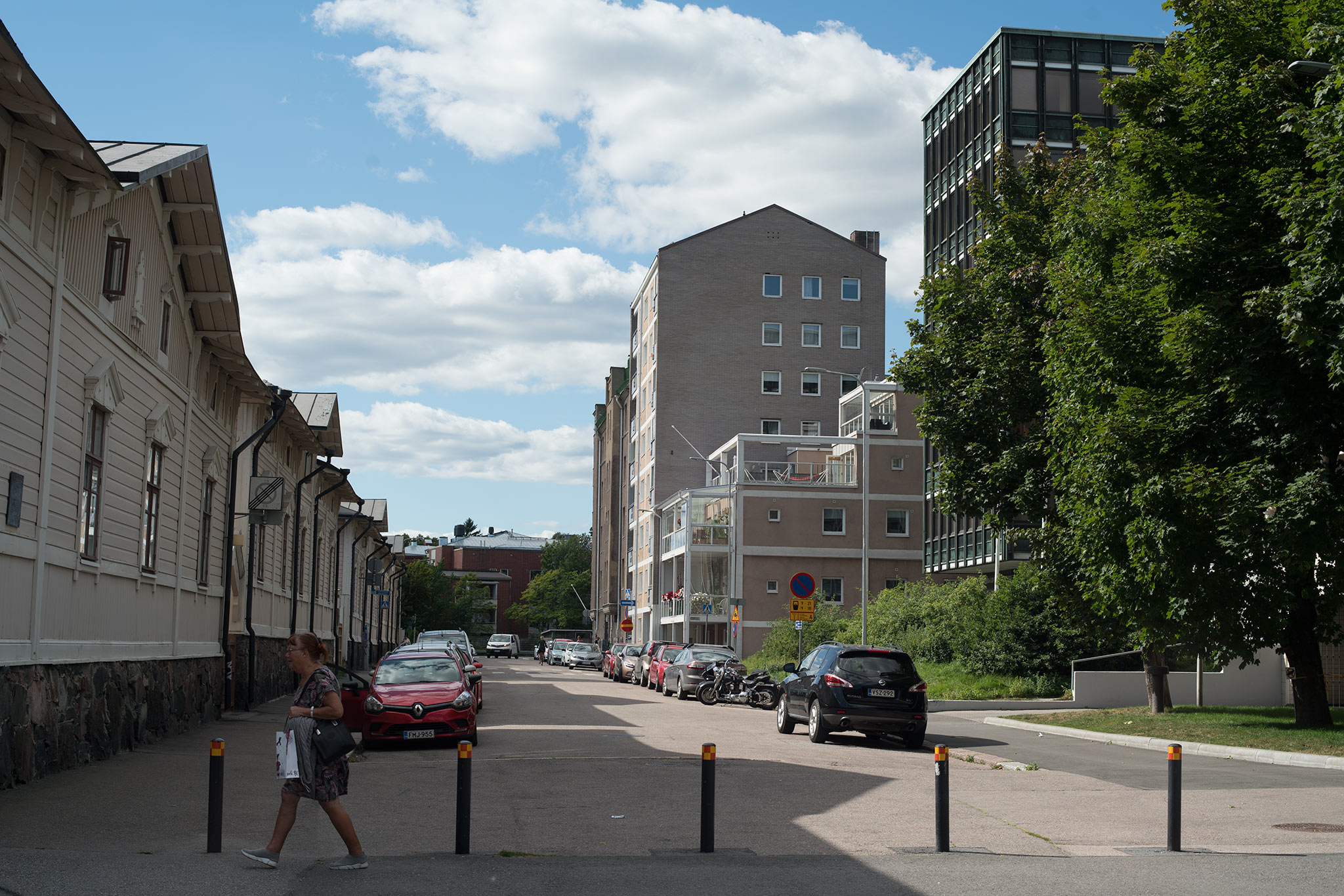 Last words…
This comparison has been a long process. Initially I took the first test series for the comparison in the summer of 2020 (along with some shots for other reviews), with the intention to – once darkness has arrived – do the analysis and write-ups in autumn-winter 2020–21. The massive delay before publication is mainly caused by a combination of JAPB having to coexist with work-life balance and two more reasons.
Reason one is that I – on closer analysis – noticed that many of the test shots either:
• were not very good tests (either they did not allow detailed analysis or were not sufficiently able to isolate factors that could have an unintended impact)
• failed in other ways.
I don't want to have to recount the number of tests image sets which – on closer inspection showed various problems: Either that the framing had moved too much from the first lens to the last (caused by lens changes or by an unstable tripod footing); that the lighting conditions had changed too much to allow for rigorous analysis; that the initial wide-open shot had been ever so slightly mis-focused, etc…
While this article uses shots from altogether 9 test sets, more than 30 test sets had to be photographed to gain those 9 usable sets.
Another reason is that I – in writing this comparison – noticed that I had to talk about various aberrations (and their effects) either only in passing, or would be forced to extend this article with a lot of stuff not directly related to the lenses being compared. As a result, those discussions on aberrations were spun off (and extended) to form the JAPB article series on optical faults and aberrations.
Finally, I've drawn one more conclusion: While I initially started this series on comparisons of fast fifties with the idea of comparing batches of nine lenses each, I think that nine is a bit too much, as the sample composites (the images that compare lens samples) always become so large that the (vertically) span several pages. I think future JAPB comparisons will focus on smaller numbers of lenses at a time.
What next?
• Part 1: Introduction, the lenses: pedigree and handling
• Part 2: IQ-comparison I – The Brick wall test
• Part 3: IQ comparison II – Urban vistas
• Part 4: IQ-comparison III – Bokeh and blur
• Part 5: IQ-comparison IV – Night-time vistas
• Part 6: Summary and conclusions (you are here)