Pekka Buttler, 06/2023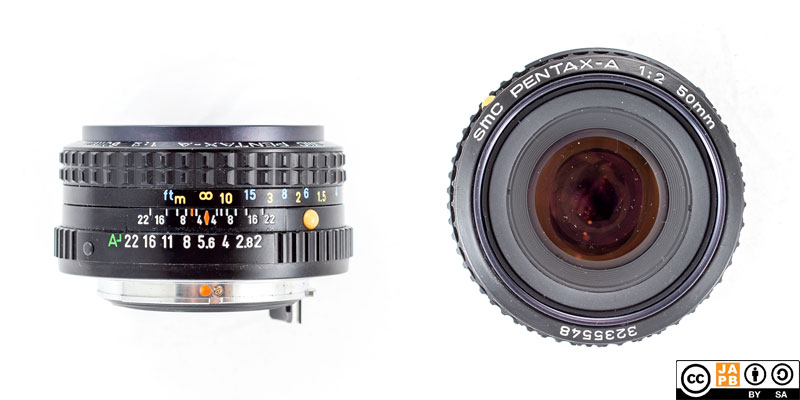 Specifications
The table below summarizes the lens' key specifications (measurements are based on the pictured sample):
| | | | |
| --- | --- | --- | --- |
| Brand: | Asahi Opt.Co. (Pentax) | Lens name | smc Pentax-A 1:2 50mm |
| Focal length(s)1 | 50 mm | Angle-of-view2 | 47 ° |
| Maximum Aperture | f/2 | In Production | 1985–1998 |
| Lens mounts | Pentax K | Subfamily (if applicable) | KA |
| Length3 | 31,2 mm | Diameter4 | 63 mm |
| Filter ring diameter | 49 mm | Weight | 144 grams |
| Lens element count | 5 | Lens group count | 5 |
| Aperture blades (S/R/C)5 | 6 S | Focus throw | 200 ° |
| Minimum focusing distance | 45 cms | Maximum magnification | 1:6,9 |
| Has manual aperture ring | YES | Has Manual focus ring | YES |
Further notes:
• During the Pentax-A era (1984-1989) Asahi/Pentax used to offer five different 50 mm primes:
• a superfast fifty (50/1.2)
• a fast fifty (50/1.4)
• a nifty fifty (50/1.7)
• a slow fifty (50/2) [this lens]
• a short macro (50/2.8)
• While the mid-80s was already solidly in the era of zooms, Pentax did offer this lens as an alternative kit lens for entry-level auto-aperture bodies.
• with a length of 31,2 mm and a diameter of 63 mm, this lens just barely qualifies as a pancake lens.
• This is the final iteration in a long line of slow fifties (see 'versions')
• This lens is of the KA-subtype of Pentax K lenses and communicates aperture information electronically to a compatible body, hence enabling a wide range of automatic exposure modes on compatible bodies.
History of Asahi / Pentax
The camera business today known Pentax was founded in 1919 as Asahi Kogaku Kogyo (Asahi Optical Company). Initially the company manufactured lenses for eyeglasses, later diversifying into projection lenses and even later into photographic lenses, supplying lenses for camera makers such as Konishiroku (Konica) and Molta (Minolta) and binoculars.
In 1952 – the year of the Helsinki olympiad – Asahi released the Asahiflex, the first Japanese 35 mm SLR. Together with its SLR cameras, Asahi introduced a line of lenses that carried the name 'Takumar', in honour of the founder's brother.
In 1975 Asahi/Pentax introduced its own bayonet mount – The Pentax K mount – and phased out the production of m42 lenses and cameras. The name Takumar would remain on Pentax lenses until 1979 (and made some sporadic reappearances). The Pentax K mount is still a current mount, but it has several versions/generations. For details, see the JAPB article on the Pentax K mount.
Pentax was among the handful of Japanese camera manufacturers to keep up with the introduction of autofocus SLR cameras, and even survived the shift from film SLRs to digital SLRs (albeit somewhat struggling).
Versions
Asahi/Pentax has a long tradition of offering an f/2 (or f/2.2) standard lens in their lineup as an alternative to the ubiquitous f/1.7–1.8 nifty fifties.
The list below summarises the major steps in the genealogy of the Asahi/Pentax 50–55 mm f/2–2.2 lenses.
m42 mount lenses:
• 1957–1959, 'Takumar 1:2.2 f=55mm', 5 elements in 5 groups, preset aperture, 10 blades
• 1958–1959, 'Auto-Takumar 1:2 f=55mm', 6 elements in 5 groups, preset aperture, 10 blades
• 1961–1963, 'Auto-Takumar 1:2.2/55', 6 elements in 5 groups, semi-automatic aperture, 10 blades
• 1962–1972, 'Super Takumar 1:2/55', 6 elements in 5 groups, automatic aperture, 6 blades
• 1972–1973, 'Super Takumar 1:2/55', 6 elements in 5 groups, automatic aperture (with open aperture metering), 6 blades
• 1973–1975 'SMC Takumar 1:2/55', 6 elements in 5 groups, automatic aperture (with open aperture metering), 6 blades
Pentax K mount lenses:
• 1976–1977 'smc PENTAX 1:2 55mm', 6 elements in 5 groups, f/22 minimum aperture (K-type Pentax K mount)
• 1979–1985 'smc PENTAX-M 1:2 50 mm', 5 elements in 5 groups (K-type Pentax K mount)
• 1984–1989 'smc PENTAX-A 1:2 50mm', 5 elements in 5 groups (KA-type Pentax K mount) [this lens]

Adapting
If you want to natively mount this lens you need to find a functioning Pentax K mount SLR (or a dSLR) camera. Luckily that should be relatively easy as Pentax K film bodies were produced in their millions and most of them – especially those manufactured by Pentax – have a good reliability record. Alternatively, you can use this lens natively on any Pentax dSLR.
Adapting this lens to a mirrorless, full-frame digital camera is a breeze thanks to the lens having full manual controls (aperture ring, focus ring). You simply need a dumb adapter from Pentax K to your mirrorless system.
Due to the medium flange focal distance used by the m42 mount (45,46 mm), whether you can adapt this lens to other than Pentax' dSLR mounts depends on which dSLR mount: Canon EF, and Four Thirds can mount Pentax K lenses using a simple adapter ring. Minolta/Sony A and Nikon F on the other hand are not as problem-free, and – to retain anything near infinity focus – the adapter will necessitate corrective optics. In all cases, your camera will work only in stop-down metering.
Footnotes
1 Focal length is (unless stated otherwise) given in absolute terms, and not in Full-frame equivalent. For an understanding of whether the lens is wide/tele, see 'Angle-of-view'.
2 Picture angle is given in degrees (based on manufacturers' specs) and concerns the diagonal picture angle. Rule of thumb:
> 90 ° ==> Ultra-wide-angle
70–90 ° ==> Wide-angle
50–70 ° ==> Moderate wide-angle
40–50 ° ==> 'Standard' or 'normal' lens
20–40 ° ==> Short tele lens
10-20 ° ==> Tele lens
5-10 ° ==> Long tele lens
< 5 ° ==> Ultra-tele lens
3 Length is given from the mount flange to the front of lens at infinity.
4 Diameter excludes protrusions such as rabbit ears or stop-down levers.
5 S=straight; R=rounded; C=(almost)circular at all apertures.